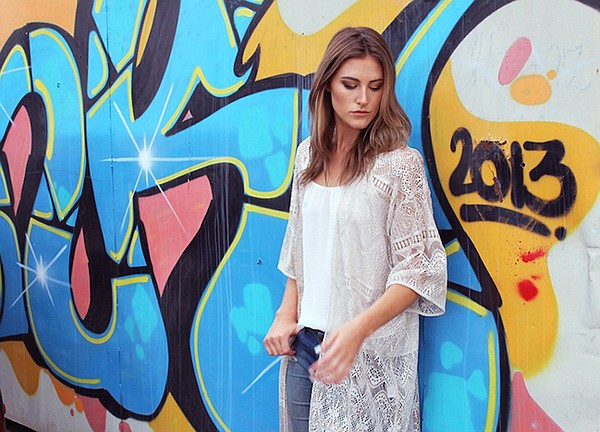 NEW FRONTIERS
L.A.'s High-End Fashion Designers Test New Categories
With price-conscious consumers and the athleisure trend changing the way the retail world turns, some of Los Angeles' eveningwear and red-carpet designers are focusing their attention on less-expensive and casual lines that fit in with people's lifestyles and pocketbooks.
Diffusion lines are nothing new. Designer Michael Kors launched Michael Michael Kors in 2004. Veteran fashion guru Ralph Lauren developed Lauren by Ralph Lauren for those who wanted a touch of design at reasonable prices, and the lower-priced Marc by Marc Jacobs has been a staple for some time.
But top-end Los Angeles designers are noting that red-carpet gowns and beautifully embroidered dresses in fine fabrics are harder to sell in areas of the country where movie premieres and swank cocktail parties are not the norm. Even in Los Angeles, not everyone is going to formal parties and dinner excursions dressed in bangles and baubles.
Sue Wong, known for her ornately beaded and embroidered evening gowns and cocktail dresses that sell for $400 to $800, is getting ready to show a new line of tops that carry her signature embroidery and lace details but can be worn with slacks, blue jeans or leggings. And at $150 to $350, the retail price tag is a little less daunting than the designer's higher-priced frocks.
"There is a limited specific use for a Sue Wong cocktail dress or evening dress," said the well-known designer from her Los Angeles studio, where she has held lavishly catered viewings of her new collections. "You would have to be getting seriously dressed up for a special occasion—such as a black-tie dinner, a special birthday party or a cruise—to buy my dresses. But if I take my same signature elements and scale it down a bit and make these tops, you can put them with anything."
The full tops line will be ready for the Spring 2016 season, but Wong said she is hoping to have a pre-Spring capsule collection available to show in August for the Project show in Las Vegas. The collection will include fabrics such as jersey, crepe, chiffon and tulle and different kinds of embellishments and lace that will give them a sophisticated air.
Wong is well aware that shoppers have become very price conscious, which is why she is developing options that are more affordable and more wearable for different occasions. "We live in more conservative times and people tend to slow it down and tone it down," she observed.
Tight purse strings
Even though the economy has been steadily marching along, consumers still haven't cut loose and started spending money on clothes like they did before the recession hit in 2007.
Shoppers are counting their pennies and putting more money into savings accounts rather than going on shopping sprees. "There has been a cautiousness that has not changed considerably since the Great Recession," said Jack Kleinhenz, chief economist for the National Retail Federation.
He noted that people have had to allot more of their budget on items such as healthcare, whose costs have risen 11 percent in the past year. Rents across the country are up 5 percent since 2014, and gasoline prices have steadily risen since the beginning of the year. In California, prices at the pump are the highest in the nation, with regular gas selling for $3.80 to $4 a gallon.
The trend for more-conservative consumer spending hasn't been lost on retailers such as Nordstrom, Macy's and J. Crew, who are trying to reel in more consumers by offering cheaper clothes. J. Crew recently announced it is opening a chain of J. Crew Mercantile stores that will have racks of value-driven clothing with the classic J. Crew style. The first store opened in Dallas on July 20.
Macy's is also hitting the value-driven trail with plans to open six small-format discount fashion stores called Backstage, beginning this fall. If the concept works, more stores will be rolled out.
And Nordstrom has been aggressively launching Nordstrom Rack stores, the discount version of Nordstrom, across the country. This year, 15 Nordstrom Racks are scheduled to open while only a handful of Nordstrom stores will materialize.
Retailers have been asking higher-end designers to consider coming up with alternate lines that don't break the bank. Los Angeles designer Galina Sobolev heard that call from several stores and shoppers who said they loved her sense of fashion but couldn't afford to pay $200 for a pencil skirt or $380 for a dress.
So Sobolev, whose luxury Single label has been around since 1995, developed a less expensive line two years ago called Kaya di Koko, which in Dutch means "street of coconuts," the name of a thoroughfare in an island off the coast of Venezuela.
The Kaya di Koko line of mostly tops and casual day dresses retails for $89 to $119 and is geared for women between the ages of 22 and 40. "This is for a customer who follows trends but does not want to break the bank," Sobolev said. "We got a lot of call-outs from the industry and the consumer for this. …While some boutiques might have looked at Single, they would say, 'Gosh, I love it, but I wish you had it for $44.'"
Like Single, Kaya di Koko is made in Los Angeles and sold at specialty stores across the country. Currently, Kaya di Koko makes up about 20 percent or 30 percent of revenues for Sobolev's company. "This year it has taken off like it was on fire," the designer said.
Shooting for a hole in one
Veteran Los Angeles fashion designer Kevan Hall has always been a presence on the local fashion runway scene and at Fashion Week El Paseo in Palm Springs, Calif.
This year, on top of showing his elegant eveningwear and cocktail and day dresses, Hall unveiled his new collection of stylish women's golf wear manufactured in Los Angeles under the Kevan Hall Sport label. It fits in with the athleisure movement that has been sweeping the country.
"It is a very fluid collection that moves through a golfer's day," said Hall, who said his sportswear collection looks as good on the street as on the greens. The polyester/spandex fabric has UV protection and moisture-wicking capabilities and is done in stylish silhouettes and unique prints that don't fade because of the heat-transfer method used to make them.
Hall got the idea for golf wear from one of his faithful dress clients, Beth DePass, who is a "social" golfer who hangs out on the greens in style and likes to carry that over to the clubhouse. "It is the gap in the well-dressed person's wardrobe," said DePass, a former attorney and now entrepreneur who splits her time between New Orleans and Boca Raton, Fla. "You have to be able to go from brunch to the golf course to the store."
DePass convinced Hall to develop the golf collection under the separate company name of Kevan Hall Sport. DePass is the company's president, Cheryl Simon, an investor from Greenwich, Conn., is vice president, and Hall is the designer and creative director.
The collection has already been worn by such celebrities as Virginia Madsen, Terry Hatcher and Kim Alexis, Hall said.
The line is not only stylish but tries to fit in with a golfer's needs, such as a skirt that has loops at the waistband to hold golf tees or a dress with ample pockets to hold just about everything.
Dresses wholesale for $70 to $95, and shorts and pants have a $55 wholesale price tag. About 100 stores are carrying the line, first shown last year at the PGA Merchandise Show in Orlando, Fla. It will be showing Aug.18–19 in Las Vegas at the PGA Fashion & Demo Experience Show at The Venetian Hotel.
Now that the golf line is taking off, there are plans to expand to other sports. "The idea is that we started out with golf, but as needed we will expand to tennis, yogawear and cycling," Hall said.