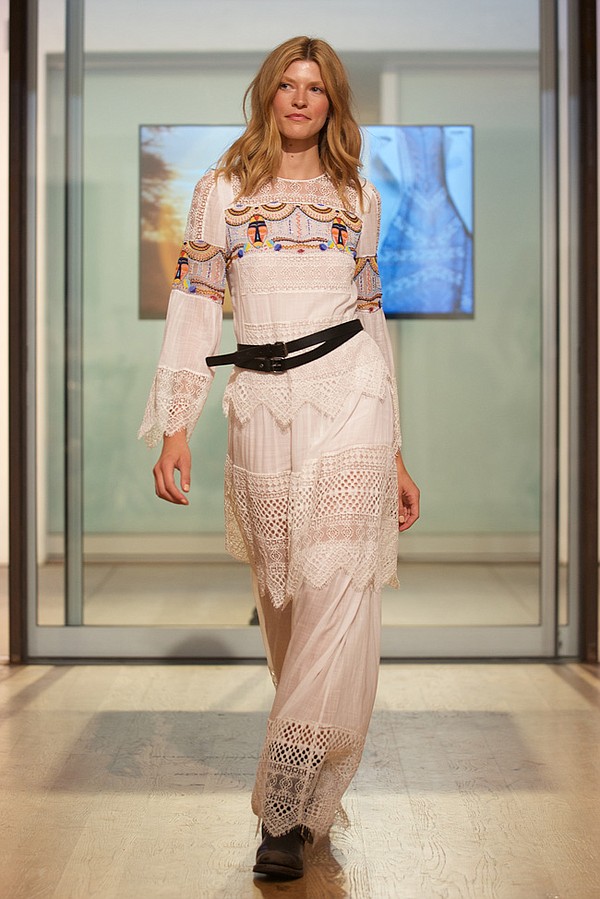 FIRST LOOK: RESORT '16
BCBGMaxAzria and Herve Leger on the Runway in L.A.
A well-dressed and enthusiastic crowd turned out to see the Resort '16 collections for BCBGMaxAzria and Herve Leger shown in a gallery setting in Los Angeles. The Aug. 7 event at the Samuel Freeman Gallery in Los Angeles was hosted by BCBG's Max and Lubov Azria, who typically present their Spring and Fall collections at New York Fashion Week.
"We want the best for Los Angeles," said Max Azria prior to the show, which featured the Ready-to-Wear and Runway collections of BCBGMaxAzria as well as the Herve Leger collection.
Lubov Azria introduced each section, explaining the inspiration and offering plenty of thanks to her team at BCBG.
"Los Angeles is all about art and music and cinema and great people—and, of course, the weather," she said.
But when Lubov Azria and her team were designing BCBG's Ready-to-Wear collection, the weather in Los Angeles was unusually cold and rainy.
"It was miserable in March in LA," Azria said. "It was raining, and I was thinking of different places I wanted to visit like St. Bart's. Anything to get my energy up."
As a result, the Resort collection features several bright tropical prints, which are mixed with chic black-and-white stripes, lace and crochet. Silhouettes feature cropped styles, color blocking and sexy cutouts.
BCBG's Ready-to-Wear collection is designed for a stylish career girl. The limited-edition Runway collection is designed for "someone who doesn't have a job," Azria joked. "She dances and she dines."
The Runway customer is inspired by art, and, for the Resort collection, Azria and her team looked to the mixed-media paintings of French artist Coco Fronsac, who combines early photographic portraits with masks and iconography from Africa, Oceania, Asia, the Americas and European folklore.
"What's going on is both new and old," Azria said. The silhouettes were inspired by 19th-century clothing, and African masks are embroidered on lace pieces. There's also a mask print.
Inspired by natural stones such as agate and quartz, the Herve Leger Resort collection featured jacquards, appliqués and beading as well as fringe and rick-rack trim. The current collection continued to explore the "bandage" aesthetic of the original Hervé Léger, created in 1985 by Hervé Peugnet (now known as Hervé L. Leroux). BCBG acquired the brand in 1998.
"I refuse to go away from the bandages," Azria said. "It's like mummifying the body. It creates tension, and it molds to your body. It takes confidence to wear it. It takes grace to wear these clothes. The body is secondary."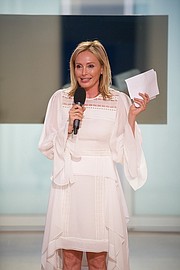 Photo Gallery
BCBGMaxAzria Ready-to-Wear Resort '16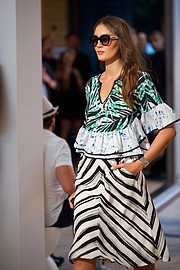 BCBGMaxAzria Ready-to-Wear Resort '16 | Samuel Freeman Gallery | Los Angeles | Aug. 7, 2015 | Photos by Volker Corell
Photo Gallery
Herve Leger Resort '16 runway show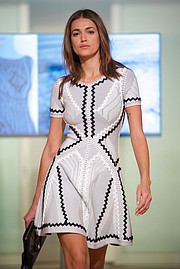 Herve Leger Resort '16 runway show | Samuel Freeman Gallery | Los Angeles | Aug. 7, 2015 | Photos by Volker Corell
Photo Gallery
BCBGMaxAzria Runway Resort '16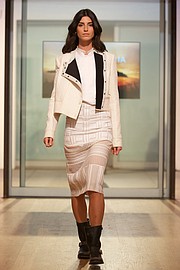 BCBGMaxAzria Runway Resort '16 | Samuel Freeman Gallery | Los Angeles | Aug. 7, 2015 | Photos by Volker Corell
RELATED STORIES