MANUFACTURING | MADE IN AMERICA
Kentwool's New Performance Apparel Division Expands Its U.S.-Made Product Mix Beyond Golf and Socks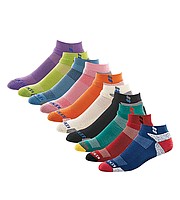 Location increasingly matters when it comes to where apparel products are made. One company experiencing this is Kentwool, a venerable South Carolina–based company that has become known in recent years for its high-end, high-tech golf socks.
Dan Murphy, who spent 11 years with golf-ball manufacturer Bridgestone, recently joined Kentwool as president of its new performance apparel division. Murphy is charged with taking the division beyond its golf socks into other areas. The sock, which retails for $20 a pair, has achieved considerable success in just a few years. It has gained widespread acceptance among pro and amateur golfers, but its reputation has spread beyond golf. The socks are sought after by manufacturing workers and others whose jobs require standing for long periods of time.
In addition to 100 percent wool yarn, the socks include yarn made from coconut fibers, which serve to reduce odor and abrasion, and textured nylon, which adds ventilation.
"I knew the brand and product was good, but I didn't know how widely known it was," Murphy said. "We conducted an online consumer survey of Kentwool loyalists and found consumers love the product and have a passion for it. Commitment to the product is extremely high. That was good news."
That survey found that it does matter to fans of Kentwool's golf sock that they are made in the U.S. The typical purchaser of the socks is male, in his mid-50s and has high disposable income.
"We think that being made in the U.S. not only ensures the quality and craftsmanship but is of great marketing value," Murphy said. "We like the flexibility that a shorter lead time offers."
Building a U.S.-based supply chain requires finding good suppliers and manufacturing partners. That hasn't been a challenge thus far for Kentwool, which has been working with some of the well-known names in the knitting business for its sock production, including Wigwam of Sheboygan, Wis. About half of Kentwool's sock sales are through golf shops, and half are online. Black and natural are the most popular colors for the socks, but color drives purchasing decisions, and the company is planning on offering team colors for high school, college and pro sports.
Venerable Kentwool is a true survivor in the textile industry. The Greenville, S.C.– headquartered company has evolved and diversified over the last several years. The company was founded in Pennsylvania in 1843 and been family owned and operated ever since.
Chief Executive Officer Mark Kent is the fifth generation of his family to run the company, which now has three divisions: Kentwool Manufacturing, Kentwool Performance Apparel and Kentwool Development, which owns commercial real estate. But it's the textile business that is still the core of the company, and Kent said it's poised for growth.
"I think back in the 1990s everyone was looking for a way to save the business—how to survive, circle the wagons and protect themselves in an industry that was rapidly moving offshore and contracting upon itself," said Kent, who has been running the company since the passing of his father, Warren, in 1992. "We've been very fortunate in the last few years that we have continually grown our manufacturing business, albeit incrementally, but we have grown."
Kent is bullish on the future of the American textile industry. He says the industry's most difficult period was between 1992 and 2002, when the dust began to settle following a decade of decimation and shifting business in favor of offshore production. He says there were some key ingredients then and now that give hope to the industry's survivors. The first is low-cost power, which is not available everywhere in the world. Secondly, he says, the industry has survived several waves of low-cost Asian labor. He says the ingredients are in place for a slow, steady growth of the textile industry.
"What I see is a far more adaptable, flexible American industry. It used to be a lot of battleships out there, not a lot of speed boats that could turn quickly and do things differently," Kent said. "Now, I might argue that there are more of those speed boats. They are more aggressive, able to get new ideas to the market faster than ever before."
Kentwool will debut a line of performance underwear and a line of sweater vests for golfers this fall. Like the successful Kentwool golf socks, these products will be made entirely in the U.S. The underwear will be manufactured in South Carolina. Kentwool does all of the design and development of products and has developed an all-American supply chain. But Kent says that with the shrinkage of the textile industry over the past 15 years, he wasn't sure how easy it would be to put together a U.S.-centric supply chain.
"Initially, I didn't know if the skill and the talent was still here to be able to produce what we needed," Kent said. "But after a while I was amazed to find that not only was the talent still here, but certain little niches were still growing. We have been trying to help cultivate that. Our big push and our selling point is 'Made in the USA.'"
Kentwool's primary product is wool yarn. End uses include apparel, automotive and medical products. Apparel has been the company's biggest market. The company's largest customer is St. John Knits of Irvine, Calif. In the outdoor trade, Kentwool's yarns can be found in high-tech socks made by Wigwam Mills and SmartWool. Yarn produced at the company's Pickens, S.C., plant also goes into products as diverse as men's suits and first-responder burn blankets used for fire victims.
"We had developed this sock that we knew was the world's best golf sock, and what I wanted to do next was fit the golfer head to toe," Kent said. "I didn't know when we started this program that while the sole destination of this sock was golf, because of its performance characteristics, we have people running in it, we have people hiking in it, exercising, doing yoga, climbing mountains. It's exceeded my expectations of what it could do performance-wise. We hope that the next product we come out with will do the same thing and will continue to live that long."