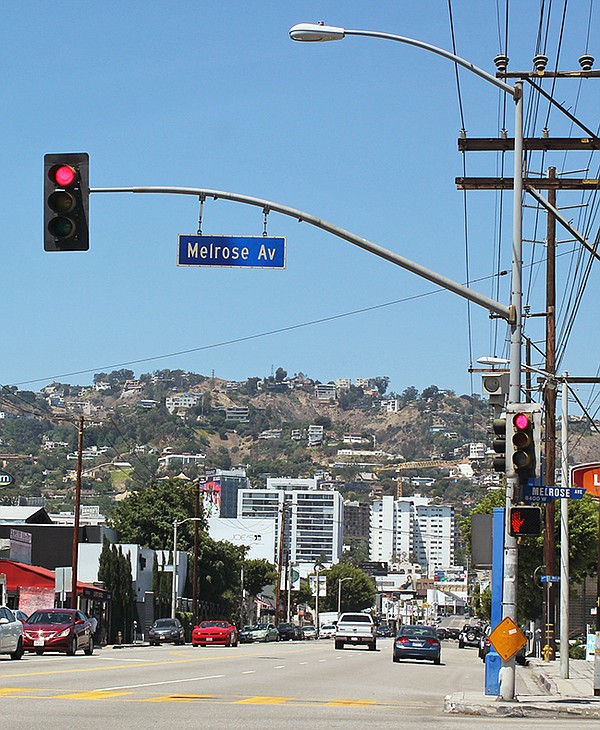 WHAT'S CHECKING
What's Checking: Melrose
Stretching from La Cienega to Fairfax, the iconic retail area along Melrose Avenue in the heart of LA has been a shopping destination for celebrities, tastemakers and tourists seeking out cutting-edge, fashion-forward contemporary styles. With high occupancy along Melrose, corporate retailers dominate over multi-line boutiques with an unwavering quantity of variance and quality.
Nudie Jeans
710 N. Edinburgh Ave. 90046
Hailing from Scandinavia, Nudie Jeans has its West Coast Concept Store and showroom right off Melrose Avenue. With quality being the backbone of its brand, the freestanding store boasts an in-house hemming and lifetime guarantee repair program, ensuring each pair of jeans sold has a satisfactory fit per the customer.
The bulk of the store carries men's and women's denim jeans (average retail prices range from $165 to $199) along with a handful of tops and jackets. Classic raw indigo dyes are the store's staple No. 1 seller for both men and women, with higher-rise jeans being the top style sought out by female customers. Unique right now for men, Nudie has released a limited-edition 18-ounce denim jean that is produced in Japan (retail $375). Only 1,000 pairs were made, and it has been well received, according to the store manager.
Reformation
8253 Melrose Ave. 90048
Open since 2009 and located on Melrose since 2012, the Reformation store features the company's limited-edition collections made using environmentally conscious, sustainable and eco-friendly practices. The company's newest best-selling capsule is the "I'm Up Here" Collection, which is specifically designed for women with cup sizes C through DD. The first installment debuted in June 2014, and a second was released in July 2015.
As for top-selling styles, the store has had a hard time keeping bodysuits stocked as of late. Top sellers include the "Coco" bodysuit, a medium-weight ribbed jersey bodysuit with short sleeves, a scoop neckline and exposed zipper in the front ($78), and the "Serena" bodysuit (part of the "I'm Up Here" collection), which is a medium-weight ribbed jersey bodysuit with a lace-up deep-V neckline, specifically engineered to be bra-friendly ($78). The "Roxton" top, an off-the-shoulder crop top with a ruffled neckline and armholes underneath ($98), has also sold well, in addition to the "Cali" dress, a ribbed stretch jersey turtleneck shift dress ($78).
Moods of Norway
7964 Melrose Ave. 90046
After moving to its current location from Robertson Boulevard two years ago, business has been "very good." Moods of Norway put itself on the map with its tailored items, priding itself on mixing Norwegian heritage with international fashion trends. While men's tailored items are the store's No. 1–selling and sought-after pieces, the company has expanded its categories into men's basics and accessories that include belts, bowties, socks and underwear as well as women's apparel and leather goods.
Currently, floral prints on men's tailored jackets (average $499 retail) and woven shirts ($129–$179) are best-sellers, and a variety of prints on various women's pieces have been popular. The No. 1–selling women's piece right now is a leather moto jacket ($499), which is offered in black and mint.