RETAIL
Assembly Expansion to LA Retail Market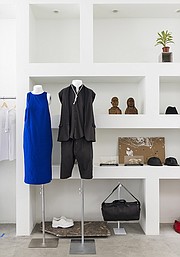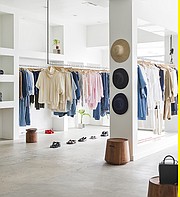 Assembly—an independently owned retailer, eponymous designer brand and Council of Fashion Designers of America member—opened a second location, in Los Angeles, earlier this year.
The new location, at 7977 Melrose Ave., opened in May and follows Assembly's first retail location, in New York.
"With an address in one of the most tenured retail destinations in the country, the new retail space is a fitting home for Assembly to showcase their international roster of independent designers, fine jewelry and accessories alongside [our] namesake his/hers RTW collection," said Designer and Chief Executive Officer Greg Armas.
Armas previously owned the boutique Scout Los Angeles until he relocated to New York in 2008. "In my mind, I never left LA," Armas said. "It has always been about incorporating a West Coast feel into the East Coast mentality."
Assembly's 1,850-square-foot minimal space on Melrose is dotted with trademark modern touches such as solid marble elements, exposed construction elements and found-object placement. Similar to the New York location, Assembly Los Angeles showcases new designers such as Sandy Liang, CF Goldman, 69, Feit, Building Block and Nektar de Stagni in a gallery-like setting.
New to Assembly as of this summer for both locations and online is the company's namesake shoe line. Assembly's "Plaza" espadrille, for men and women in black and white cotton, is a reference to Armas' own timeworn espadrilles with which he traveled extensively over the years. For the Assembly version, he maintained the classic simplicity and ease of a classic espadrille design but modernized it by giving it a lace-up style and a traction sole for navigating city life. The shoes are handmade in Spain and retail for $84.
Currently in Assembly's new LA store, bestsellers include Shaina Mote convertible tops and dresses in solid colors ($140–$400), Assembly black-and-white elevated basics ($200–$1,200), Doc Martens monochromatic white oxfords for him/her ($110) and Shannon Nataf fine gold jewelry ($2,000–$4,000).
Armas said the store prides itself on carrying "authenticity and original, wearable concepts. Our hand-selected vintage pieces mixed in with the new collections have been extremely sought after, and we find lots of international clients gravitating toward fine jewelry and accessories."
For more information, visit www.assemblylosangeles.com.