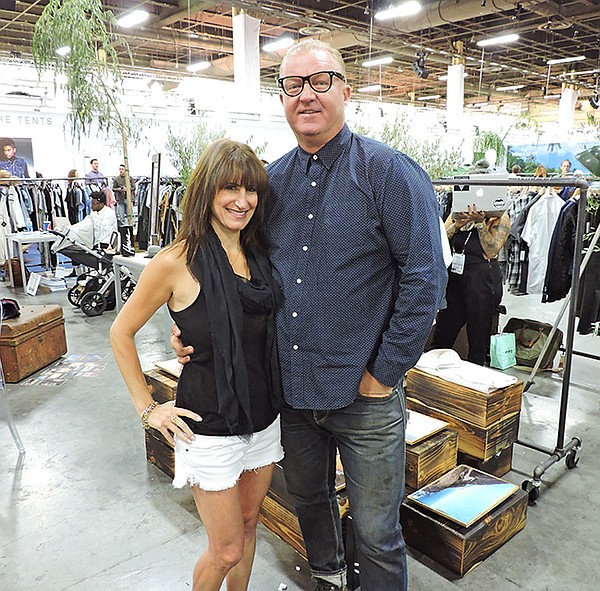 PROJECT WOMEN'S
New Categories, Configuration at Project, Project Women's and Tents at Project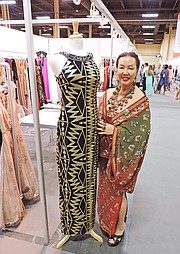 Retailers visiting the trade shows at the Mandalay Bay Convention Center found the scene buzzing with activity—and new exhibitors—during the shows' Aug. 17–19 run.
At the center of the activity was Project, the contemporary menswear show held alongside Project Women's, which was previously called ENKVegas. Upscale menswear lines showed at the Tents at Project, and menswear collections from upscale suiting to streetwear and licensed apparel showed at The Collective.
Menswear designer Jade Howe was showing his Howe collection alongside the other men's labels represented by The Park showroom. Retailer Lisa Kline was recently named brand ambassador for Howe. "I've always been a Howe fan. I built this brand in my store," Kline said, referring to her pioneering retail stores on Los Angeles' Robertson Boulevard. (Kline shuttered her physical stores in 2011. She recently launched an eponymous loungewear collection on HSN.)
As brand ambassador, Kline visits Howe retailers to talk about the collection and how to present it to customers.
"If you don't know how to sell it, you can't sell it," she said. "I know how to talk the talk. They are excited. They trust me. We can talk shop."
On the women's side of the show floor, Denise Focil, designer of Torrance, Calif.–based AS by DF and Astars, had a full schedule of appointments and walk-in traffic.
"This has been the best show ever—and it's only halfway through," Focil said. "I see it in the new accounts. I'm opening a lot of accounts at the show—and they don't hesitate."
Focil said she is also seeing signs of good business from her existing accounts. "They need to replenish. They need goods on the floor," she said.
Focil's Astars collection features knits mixed with a luxe vegan leather while AS by DF features European fabrics and luxurious leathers and suedes.
"Spring is all about suede," Focil said, showing pieces from the AS by DF line. There's a jacket with whip-stitched and hand-cut detail. "I work with artisanal factories," she said. The women and men are really skilled artisans."
Matt Reynolds, president and cofounder of Indigenous, the 21-year-old fair-trade contemporary collection from Sebastopol, Calif., was equally enthusiastic.
"We had a 20-foot booth and you couldn't even get into it," he said after the show. "It was the biggest waves of traffic I've ever experienced. Half-an-hour stints. It was mayhem."
Among the changes on the show floor was the introduction of some exhibitors who previously had showed at WWDMAGIC in a section called White.
Last season, Los Angeles label XCVI was at White. This season, the company showed at Project Women's. "We love it," said company representative Chris Myers. "I like the Coterie-esque vibe with everything under one roof."
Eveningwear designer Sue Wong has showed at White in the past, but last season she showed at Stitch. This season, she was among a group of eveningwear designers at Project Women's. It proved to be a good spot to launch her new collection of day dresses and day-to-night styles.
"I'm going a little cleaner," she said, adding that her customers need dresses they can wear to the office or to a less formal occasion.
The knee-length styles featured lace, embroidery and appliqués.
"It's still very special," Wong said. "They still have my touch."
Z Supply co-owner Greg Garrett praised the show's new layout. Garrett's contemporary women's brands White Crow and Black Swan previously showed at ENKVegas. The two lines had a similar placement at Project Women's.
"I thought they did an excellent job," Garrett said. "It's less confusing to the retailer. It doesn't feel as big. It's the best it's been in years."
Many of the exhibitors at ENKVegas moved from the Wynn hotel to the Mandalay Bay two years ago after Project parent company Advanstar (now UBM Advanstar) acquired ENK International.
That was the case for Los Angeles menswear brand Life After Denim, which had been a longtime exhibitor at ENKVegas at the Wynn. For the last two years, Life After Denim has showed at the Tents at Project, the show's section for upscale menswear collections.
"We like to be in here because of the product we sit next to," said sales manager Jessica Dennison.
This season, however, the booth was in a quiet aisle of the show that appeared to get less traffic than other areas.
"We still think it's the home for us," said Nick Stein, sales manager for the East Coast, "It's more special. It's easier to work here."