TRADE SHOW REPORT
Pooltradeshow Moves Upstairs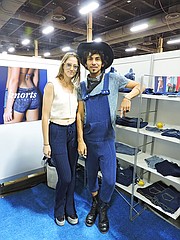 This season, the Pooltradeshow moved back upstairs to run alongside Project for the show's Aug. 17–19 run at the Mandalay Bay Convention Center.
"I'm really happy it's connected with Project—we get a lot of walk-through traffic," said longtime exhibitor Freddie Rojas, designer of the Los Angeles collection Rojas. The designer was seeing a mix of existing retailers and new prospects, including buyers from Texas, the Midwest and Kentucky—"states we don't usually see."
Buyers were looking for items "no one else has, so they can be more competitive to stand out," Rojas said. "All boutiques are looking for uniqueness."
Traffic at Lip Service, another longtime Pool exhibitor, was "steady," said Sales Rep Theresa Farber. But Bryn Thomas, head of sales for the Los Angeles–based company, thought traffic would be better if the trade shows opened on different days.
"They need to stagger these shows," he said. "They did it once, and we had our best show ever."
Pool is known to be both a venue for hard-to-categorize collections as well as a launching pad for new labels.
This was the first trade show for Los Angeles–based Knorts, a collection of made-in-LA unisex knits made from indigo-dyed yarn. The average wholesale price is $150.
The company, which launched a little more than a year ago, recently landed an order from influential Los Angeles boutique H. Lorenzo.
"We're a niche, non-trend luxury brand," said James Lord, Knorts' creative director.
Lord's business partner, Eleanore Guthrie, who heads up business development, added, "We have run into some high-end retailers who are on our target list."