NO SALE
American Apparel Rejects Million-Dollar Offer to Buy Oak Stores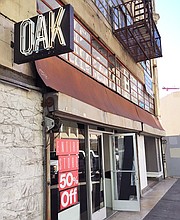 The founders of the high-end Oak stores, acquired by American Apparel two years ago, really want their stores back.
When they heard that American Apparel, which filed for Chapter 11 bankruptcy protection on Oct. 5, was planning to shutter the four stores—two in Los Angeles and two in the New York area—they offered American Apparel $600,000 to buy back the small chain.
American Apparel rejected that offer, so the store founders, Jeff Madalena and Louis Terline, turned around in mid-November and countered with a $1.1 million proposal. That too was rejected.
But Madalena said the two sides continue to negotiate.
On Nov. 19, the U.S. Bankruptcy Court approved a request by American Apparel to hold deep-discount sales at nine American Apparel stores it plans to close and at its four Oak stores. Most of those American Apparel stores are in New York and scattered around the country, but two are in California—one in Huntington Beach on Main Street and another at the Gilroy Outlet.
American Apparel's purchase of Oak—an edgy store with expensive fashions—seemed a surprise when it was announced in 2013. Oak's merchandise is pricy, and American Apparel's goods are more affordable.
Oak had only two stores in the New York area when it was bought by American Apparel. The purchase price was low enough that American Apparel did not need to include the transaction in its filings with the Securities and Exchange Commission.
At the time of the purchase, former American Apparel Chief Executive Dov Charney said that the small retail chain had $5 million in annual revenues but could benefit from American Apparel's retail know-how and manufacturing facilities to grow revenues.
After the American Apparel acquisition, Oak last year opened two stores in Los Angeles. Also last year it briefly opened stores in Tokyo and Paris, but those soon closed.