American Apparel Hits Financial Headwinds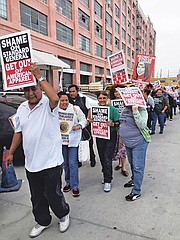 The largest clothing factory in the United States had a mountain of debt that pushed it into bankruptcy court in October, filing for Chapter 11 protection.
With a prepackaged bankruptcy plan in place, the Los Angeles company, started by Dov Charney in 1997, is expected to emerge from bankruptcy in early 2016. The publicly traded company will no longer be traded on the New York Stock Exchange but will become a private venture.
Early this year, Paula Schneider took over as chief executive after Charney was ousted from the company in late 2014 for alleged misconduct. American Apparel, which has a huge clothing factory near downtown Los Angeles and more than 250 retail stores worldwide, has accumulated a mountain of debt over the past several years.
A nearly $14 million interest payment was looming large on Oct. 15, which is what nudged the company into bankruptcy court.
Under the reorganization plan, approved by the board of directors, the company struck a deal with its secured lenders to reduce American Apparel's debt through a debt-for-equity conversion, which means the company's bondholders swap their debt for shares in the company.
Those secured lenders will convert $200 million in bonds into equity in the reorganized company. They will also provide $90 million in debtor-in-possession financing as well as $70 million in new liquidity.
American Apparel's debt will be reduced from $300 million to no more than $135 million, and annual interest expenses will be decreased by $20 million.
The secured creditors are to vote on the plan in early January.