RETAIL
2015 RETROSPECTIVE: Retailers Are Returning to Popular Shopping Streets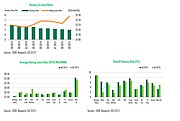 Retail on the high-end streets around the Los Angeles area are starting to buzz with shopping crowds not seen since the economy took a dip in 2008.
It's a full house on tony Rodeo Drive in Beverly Hills, and other thoroughfares are starting to fill up too as the economy slowly improves. One street seeing a major transformation is Melrose Avenue near the Pacific Design Center. Ever since Restoration Hardware installed its 40,000-square-foot flagship store and showroom a little more than one year ago, other retailers have followed.
"Restoration Hardware putting in its flagship store has helped further bolster that part of Melrose. Business is picking up, and the street is becoming more attractive," said Philip Klaparda, senior associate at Dembo Realty in Beverly Hills, which tracks local retail real estate activity in prime areas.
In the last year, Helmut Lang and L'Agent by Agent Provocateur, the lingerie collection with actress Penelope Cruz behind it, set up shop on Melrose Avenue, and Alice + Olivia moved from Robertson Boulevard to the avenue. "This street has more cachet than ever before," Klaparda said,
Rents in that up-and-coming neighborhood are running at about $15 per square foot.
Further east on Melrose Avenue, where rents are less pricy at $5 to $6 per square foot up to Fairfax Avenue, newcomers to the street include Rebecca Minkoff and Nasty Gal, which opened its first bricks-and-mortar outpost there a little more than one year ago. Also, designer Jonathan Adler expanded his home décor and accessories store.
East of Fairfax, the street becomes a little more edgy and retail rents remain reasonable at around $3 to $4 per square foot.
While Melrose Avenue seems to be picking up, Robertson Boulevard is still a game of musical chairs with a wave of retailers leaving while new businesses replace them. "Robertson is still in limbo," Klaparda observed.
The big news on Robertson is that the celebrity-focused Kitson is closing in January with liquidation sales currently going on. Kitson used to be the shopping mecca for starlets such as Lindsey Lohan and Paris Hilton, but recent financial struggles have forced the retailer to close all 17 of its stores.
Others who have left the street include Ralph Lauren, Nanette Lepore, BCBGMaxAzria, and the high-end men's and women's store Gregory's.
The vacancy rate on Robertson is around 15 percent, with retail rents fetching $10 to $14 per square foot. "The vacancy rate and the lower rental rates are providing opportunities for people who couldn't afford Robertson before," Klaparda said.
One shopping street with a zero-vacancy rate is Rodeo Drive—a phenomenon not seen since early 2008. Retail rents are up to $60 per square foot—meaning a 1,000-square-foot store will cost you $60,000 a month in rent.
Underlining the value of retail space there, Chanel recently paid $152 million, or $13,217 per square foot, for its sparkling white store on Rodeo Drive, cementing the street as one of the priciest places to do retail business in the United States—second only to Fifth Avenue in New York.
Nearby, Beverly Drive is not quite as expensive at $15 per square foot, but space is filling up fast. Sephora opened a new store there as well as a MAC Cosmetics. "The fact that the Westfield Century City mall is under complete renovation has helped strengthen the demand for Beverly Hills," Klaparda said.
In the greater Los Angeles area, retail rents averaged $2.28 per square foot toward the end of 2015, up slightly from $2.20 one year ago. Stores in West Los Angeles were garnering $6.70 per square foot while in the South Bay region, which includes Torrance and Redondo Beach, rents were going for $2.42 per square foot.