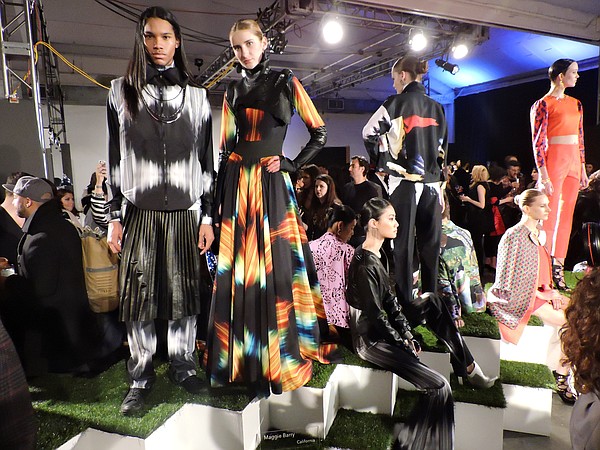 EPSON'S DIGITAL COUTURE EVENT
Designers Showcase the Power of Print
Photo Gallery
Epson's Digital Couture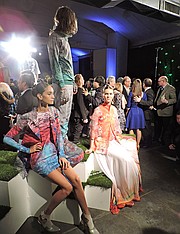 NEW YORK—Printing technology company Epson kicked off New York Fashion Week on Feb. 10 with Digital Couture, a fashion event featuring an international mix of designers and the original creations made with Epson's dye sublimation printers.
Held at Industria Superstudios in Manhattan's West Village, the event featured the work of 11 designer lines made from original sublimation patterns printed on Epson's high-speed SureColor F-Series printers.
"The idea came up as soon as we launched the printers," said Catalina Frank, product manager, professional imaging, for Epson America Inc., based in Long Beach, Calif.
Epson launched three SureColor printers in January 2013—the 64-inch SureColor F7070, the 44-inch SureColor F6070 and the Epson SureColor F7170, a 64-inch printer with a take-up–reel system for roll-to-roll printing. But it took more than a year of planning to coordinate the Digital Couture event, Frank said.
Epson has a strong presence in Latin America, said Mark Radogna, group manager for commercial imaging at Epson America. The company has a design studio in Como, Italy, where they produce printers for natural fabrics such as silk, linen and cotton, but Epson wanted to showcase the SureColor printers and their capabilities on high-end man-made fabrics.
The Digital Couture event drew a packed house of fashionable guests who surveyed the fashion and met with the designers, including three U.S.–based designers, Los Angeles–based Maggie Barry; New York–based Esosa,designed by David De La Cruz and Emilio Sosa; and Miami-based Leonor Silva as well as international coterie that included Mariana Morrell from Brazil, Marco Antonio Farías from Chile, Ma. Elisa Guillén from Ecuador, Dual's Lucia Romero and Cindy Zheng from Costa Rica, Moah Saldaña Vásquez from Peru, Cristina Pineda and Ricardo Covalin of Mexico-based Pineda Covalin, Pilar Briceño Cárdenas from Colombia, and Ay Not Dead's Noel Romero from Argentina.
Although most of the designers had worked with prints in the past, and some had even worked with sublimation printing, nearly all said this was the first time working with Epson's system.
"It's so fast," said Venezuela-born and Miami-based Silva. "You can wear the clothes right off the printer."
For her piece, Silva updated a classic lace pattern with a skull motif and paired it with an oversized geometric pattern with a pixelated look.
Los Angeles–based Barry said the hardest part was narrowing down the designs she created. The final pieces featured prism-like streaks of white and rainbow colors.
"It's a whole new world." Barry said. "Printing has been something we've never been able to explore until now. The future is so colorful, so, look out."
Barry was also excited to connect with the other designers exhibiting at the event.
"I'm a designer, but I'm also a stylist," she said. "I found lots of designers I can work with as a stylist."
Ay Not Dead's Romero was inspired by fine art and her own watercolor and oil painting. Her collection included a suit with a brightly color engineered design clearly inspired by David Hockney.
Ecuador-based Guillén was inspired by a futuristic view of the world for her designs.
"In the future, I think people will be more connected, so I created geometric designs to represent networks," she said, adding that she also wanted to explore the future of nature.
"I think technology will allow us to be closer to the places we've never been," she said.
Brazil-based Morrell showed convertible garments connected by a series of zippers. Her prints were inspired by the texture of cities such as Sao Paulo and New York.
Colombia-based Briceño Cárdenas drew inspiration from Central American motifs and colors. The designers of Mexico-based Pineda Covalin were inspired by the religious iconography of Mexico, and Dual designers Romero and Zheng were inspired by pre-Colombian symbols.