MANUFACTURING
American Apparel Cutting Workers and Costs to Improve Its Financial Pulse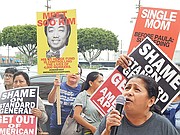 Days after American Apparel announced it would be closing some stores and laying off workers, about 80 American Apparel workers rallied outside the company's enormous factory near downtown Los Angeles to protest the way the company is being managed.
Carrying signs that skewered American Apparel Chief Executive Paula Schneider and the company's chairwoman, Colleen Brown, the group shouted, "Shame on Paula" and "We Want Dov," referring to the clothing company's founder, Dov Charney, who was fired as CEO in December.
Workers maintain their hours have been cut and they never know exactly what their work schedule will be. "This week, 40 people showed up to work in the factory on Monday and were told to go home because there was no work for them," said Louis Reyes, a spokesman for Hermandad Mexicana, a nonprofit that advocates for immigrants' rights and is the umbrella group for the General Brotherhood of Workers, which is trying to unionize American Apparel workers.
American Apparel sources familiar with the matter said that was untrue and the company was operating normally.
Reyes said 2,800 American Apparel workers had signed cards saying they want to unionize. The company employs 10,000 workers in various factories, distribution centers and its large chain of retail stores.
Demonstrators were passing out flyers that said, "No More Layoffs or Firings."
Dominga Valencia, one of the demonstrators, was a garment sewer who was laid off three months ago. She said the company was going downhill and she wanted to see Charney return. "He knows how to administer the company," she said.
The demonstration on Wednesday, July 8, came just two days after American Apparel sent out a press release announcing it will be going to the chopping block to cut at least $30 million in costs over the next 18 months and close poor-performing stores.
The realignment of the retail sector means there will be some jobs that are cut. "Among other initiatives, cost-cutting measures will include closing underperforming retail locations to drive productivity improvements," the company said. "In connection with these store closures, the company will streamline its workforce to reflect a smaller store footprint and general industry conditions." New stores may be added in more-lucrative locations, the company said.
The cost-cutting plan, which was devoid of any specifics, starts immediately. It is meant to put the company on a better financial course. American Apparel, a totally vertical operation that encompasses the largest apparel factory in the United States, has 239 retail stores in 20 countries.
For several years, it has been bleeding money with annual net losses putting it close to bankruptcy. In an email Schneider sent to workers at the same time the press release was sent, she said the company had lost $340 million in five years.
In 2014, the company lost $68.5 million on $608.9 million in revenues, and in 2013 it lost $106.3 million on $633.9 million in revenues.
The company warned that even with these cost-cutting efforts, "there is no guarantee the company will have sufficient financing commitments to meet funding requirements for the next 12 months without raising additional capital, and there can be no guarantee that it will be able to raise such additional capital."
American Apparel is also defending itself from around 20 lawsuits filed by founder Charney as well as other former employees and shareholders. Charney, who still owns 41.4 percent of the company's stock, is expected to be at the American Apparel annual stockholders meeting, scheduled for July 16 in Chicago.
The stockholders are voting to retain three board members—Lyndon Lea, Thomas Sullivan and Laura Lee.
According to documents filed with the Securities and Exchange Commission, Charney must vote his share as mutually agreed upon with Standard General, the New York hedge fund that loaned Charney money to buy additional shares that boosted his holdings from 23 percent to the current 41.4 percent of the company's stock.
American Apparel warned shareholders that because of a standstill agreement that is valid until the close of the annual meeting, Charney may not solicit stockholders to vote differently from any of the proposals recommended by the company.
Looking for fashion forwardness
While American Apparel struggles with Charney's efforts to return to the company he founded in 1998, the executives at the clothing venture have been working on a turnaround plan that includes introducing a more trend-oriented Fall 2015 collection for men and women that goes beyond the basics American Apparel has been known for. "Historically, the Fall season has not been a major focus for the company," said Schneider, who came on board on Jan. 5. "We are beginning the process of re-merchandising the product assortment to our retail stores to increase productivity by SKU."
Going forward with its new initiatives, American Apparel announced two new executive hires. Christine Olcu is on board as the general manager of global retail, and Brad Gebhard is the president of wholesale. Both are expected to implement the company's global retail and wholesale turnaround strategies.
Olcu will lead American Apparel's current retail managers in optimizing merchandising and sales at the company's stores. Olcu has worked at retailers such as Express, Mexx Canada, Indigo Books, Music Inc. and Club Monaco. She will be helped by Nicole Gabbay, American Apparel's longtime president of U.S. retail.
Gebhard, who has been working for the company for the past four months as a consultant, will focus on increasing the company's business-to-business sales. In addition, he will oversee Oak, the four-store specialty chain acquired by American Apparel in 2013.