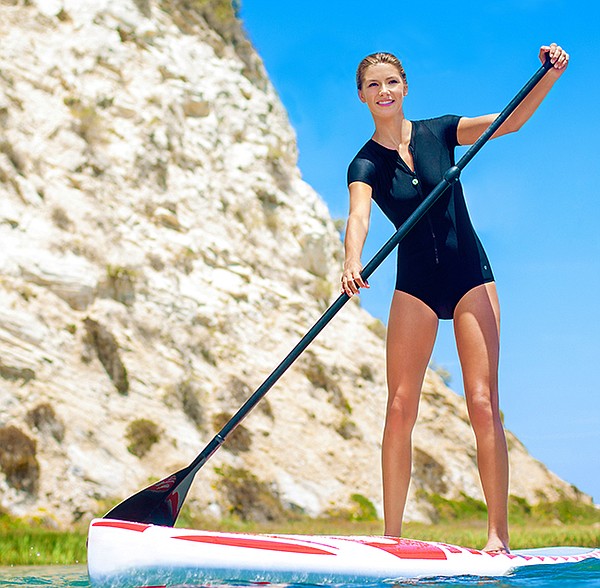 ACTIVE FUTURE
Raj Manufacturing is Building Business With New Brands, New Categories.
Lisa Bhathal Vogel and her brother, Alex Bhathal, grew up in the swimwear business watching their parents, Raj and Marta Bhathal, build their swim-manufacturing company, Raj Manufacturing.
But when the siblings took over the reins of the family-owned business from their parents 10 years ago, they soon found themselves in completely new waters.
"Alex and I took over the business from my parents, and then we had this recession. That was a heck of a learning curve for us," said Vogel, who serves as co-president of the company with her brother.
Raj, headquartered in Tustin, Calif., makes swimsuits and other products for brands such as Hurley, Reef, Ella Moss, Athena, Juicy Couture, Nautica and Splendid, but to beef up revenues it has expanded into activewear, even producing its own line, called Next. It recently added Foothill Ranch, Calif.–based Oakley to its roster of licensees. Last year, Raj acquired Basta Surf Swimwear, a New York brand the company touted as filling the "contemporary beach sexy" niche for the company. "We felt Raj was the right fit for Basta Surf for many reasons," said Basta Surf cofounder Samantha August. "Their human capital and extensive infrastructure were exactly what we felt we needed to grow this brand to the next level and beyond."
In a nearly $14 billion swim industry, Raj is a major player that has survived for decades. "I reckon it's one of the biggest in the industry," said Shannon Leggett, executive show director of the Swim Collective trade show. "Raj is unusual because they sort of cover all bases; they have a designer line, and they have brands they license and brands that they produce."
That difference is part of a strategy the brother-and-sister team began implementing when they took the reins from their parents.
At nearly 50 years old, Raj is said to be the oldest swimwear manufacturer in Orange County. The company has two California factories—one in Tustin and one new facility in Santa Fe Springs, which opened in 2013. Despite adding more factory floor—which allowed them to increase their domestic production to 70 percent—Vogel and Bhathal are aiming to take the business beyond manufacturing.
"One of the things that has changed is our direct-to-consumer outlet, Swimspot," Vogel said. "We have retail stores."
Swimspot launched in 2009—mostly as popup stores—at the height of the recession. There are now eight Swimspot stores in California and Arizona.
Getting through the recession required the siblings to utilize every lesson their parents taught them, especially the most important one: Be adaptable.
"What we did was inventory management and controlled production so we could make to order," she said.
Having the bulk of their production in the U.S. was also key, Vogel said. "If you are projecting units from overseas—from China—you look at your crystal ball six months out and try to guess. 'I'll buy 1,000 of these, 200 of these, 5,000 of these.' And we're always wrong. No one knows. You have to wait for the consumer to vote. At the end of the day, if you are one of those companies that has China production, you get eaten alive when it comes to closeouts because you can't make up your money. So part of it was inventory management."
LIVING THE LUXE LIFE
But Vogel and Bhathal, after bringing in private-equity investors, did their homework. They studied the market and made decisions to cut loose what didn't perform. They didn't retract so much as they changed direction.
"We expanded our portfolio to the growing segments. We looked at where the business was growing. That was the time when we turned off some of our juniors business and focused more on luxury," Vogel said.
One of the ways Raj focused on luxury was the creation of Luxe by Lisa Vogel, Raj's sophisticated line (retail prices run from $60 for bottoms up to nearly $200 for tops), which launched in 2008.
Filled with fashion-forward details such as cutouts, crocheted backs, fringe and an eye toward figure-flattery, Luxe is the line a woman wears to lie by the pool at a five-star resort.
"We associate the women who wear Luxe as someone who goes to the Ritz-Carlton and is kind of a jet-setter and can wear these types of things that are a little bit elevated and also fashionable,"said Britt Hertel, Raj's public relations and licensing manager.
Luxe's signature is an elevated mix of high-style and flaw-concealing details that manages not to look frumpy or dowdy. "We get to put ideas into Luxe that maybe licensed lines don't want," said Vogel, who serves as creative director for the line. "Every piece is about accentuating something that is positive on your body and camouflaging what's not."
The 2016 line, which will preview at the Swim Collective in August, includes "bandinis" that blouse over a woman's midsection as well as several selections of "bum-covering" styles for women who feel uncomfortable baring too much in public.
Vogel credits that particular aging demographic with keeping the company afloat. "I think this is one of the things that helped us stay in California," she said. "We made a shift so that we're more luxury, more misses, more contemporary-focused and less juniors because we can't compete with the Targets out there."
Coincidentally, industry watchers believe that Raj's steadfast dedication to Made-in-the-USA production and unwillingness to compete with retailers such as Target and Walmart as well as fast fashion purveyors such as H&M and Forever 21 are what make the company's brands stand out.
"There's a massive difference between what Raj does and what mass-market chains do," Leggett said. Mass-market retailers that manufacture private labels in China "generally copy last year's styles," he said.
Made-in-America manufacturers bring you next year's styles.
"Fast fashion is really last year's design that has a shelf life of three months. Raj's quality level is much more superior,"
Leggett said. "They make products that you could wear for multiple seasons. A fast-fashion swimsuit will pretty much fall off the first time you go into the ocean; what those guys do is sell disposable clothing. With Raj, it's more art and design and future trends. Raj is actually setting the trends."
BEYOND SWIMWEAR
Vogel, born and raised in Southern California and living in Newport Beach, agrees that the swimsuit industry has
evolved, going from following trends to carving out your own space in the fashion apparel universe.
"We used to look at the runways and be like, 'It's about pink fringe this year.' There are trends, but nowadays it's so much more about, within the brand, focusing on the DNA and standing for that DNA and making sure that every product, every suit, within that collection, if you saw it hanging in the store, looked like that brand," Vogel said, pointing to a rack of suits and cover-ups from Raj's 2016 line. "If you see Basta, it has the neon pop. You see Next, it's the fashion active, and it needs to be true in that way."
Raj is at the forefront of that trajectory to bring the swimwear industry beyond the boundaries of bikinis vs. one-piece swimsuits.

These days, consumers see swimwear as part of a larger movement toward versatile activewear that takes the average woman through an entire day—from the gym to the beach to cocktails. With the rise in the last few years of the "athleisure" segment, Raj has turned its attention to the active market and how it can work with activewear brands.
"If you look at our portfolio brands 10 years ago to now, it's different because we've had to change and evolve. We like to think that we're a company where we can really get under the skin of a brand and be chameleons and put out a product that represents that brand well," Vogel said.
One way that Raj has found brands to represent is by changing the way the company decides with whom to partner. For instance, 10 years ago, a brand's Instagram profile wasn't an issue. "We get calls literally daily from companies that want to license their brands," Vogel says.
Before, Raj had a different set of criteria. Was this a mega brand? Did they have their own retail
stores? Did they do consumer advertising? "Now it's completely different," Vogel said. "We ask, 'Does it compete with our own portfolio? Is it a growing market? What is their social-media following and what does it look like? Are their social-media followers engaged?' "
Raj's new licensing agreement with Oakley, known for its edgier, hardcore lines and iconic eyewear, fits the criteria. "With Oakley, we definitely expanded into this athleisure/athletic wear. That's probably a trend," Vogel said.
But it's a trend that Raj had already leveraged with its own activewear line, Next. Originally created for SUP (stand-up paddleboarding), Next is a collection of swimsuits, swim pants, shorts and shirts made of a special fabric developed by Raj called Next Flex.
"It's UPF 50, quick-dry, moisture wicking and has a really nice stretch that goes back to where it's supposed to, and it's camouflaging. The fabric is a big part of it," Vogel said.
The line—sold at Neiman Marcus, Dillard's and Macy's—with diffusion lines at Sports Authority and Kohl's, is perfect for women Vogel refers to as "Latte Ladies," who go from the school drop-off to the gym to coffee with friends.
"They spend the whole day in it," she said.
The deal with Oakley includes a collection for 2016 of swim- and activewear—including swim leggings and running
shorts—also rendered in a high-tech fabric. This time the fabric is from Italy, made of 100 percent recycled material with UPF 50 that is moisture wicking and resistant to suntan lotion.
"They say 80 percent of swimsuits never touch water," Vogel said. "But this girl is in the water."
Raj would not release the financial details of the Oakley deal. (It does not release any financials.) However, Vogel did talk about the shared vision between the two companies.
"There were conversations that we had together. We felt that it should be active but rooted in the water, and they were completely mirroring what we were seeing," Vogel said. "The other thing that Oakley liked is that they are an Orange County brand and they liked that we were made in the USA, too."
The clamor for all things "Made in the USA" seems to be an integral part of Raj's longevity. But Vogel admits there are challenges ahead for their "American-made" model. Most pressing is the recent decision in Los Angeles to raise the minimum wage to $15 an hour by 2020. Though Raj's Santa Fe Springs factory is just outside the bounds of the city, it is still located in Los Angeles County, which is considering a similar minimum-wage increase.
"With the minimum wage going up and up and up, we have to find ways to automate," Vogel said. "We're watching it."
In the meantime, Vogel and Bhathal will work on what happens next.
Will it be a men's line? "Women buy, on average, 1.5 swimsuits a year. Men buy one every six years," she said, adding, "I don't know. … We have some ideas."
Or does the future for Raj lie elsewhere? "Swimspot is our big initiative. That's something that we see as a growth opportunity— that and international," Vogel said. "International fluctuates due to currency exchange, but we still see that as an opportunity."