TRADE SHOW REPORT
Collaboration and Curation at MRket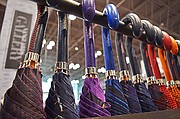 NEW YORK—Fashion collaborations and curated offerings were front and center at MRket, the menswear show organized by Business Journals Inc.
From Beam's pop-up shop at The Hub—the show's new interactive area—to Vanguards Platinum—MRket's home for upscale lines within its up-and-coming Vanguards Gallery section, buyers has a lot to see during the show's July 19-21 run at New York's Javits Center.
Organizers boasted attendees from all 50 states as well as 47 countries at the most recent show, which was held immediately following the first-ever New York Fashion Week: Men's.
Although luxury leather retailer Araldi Milano has been around since 1930, this was the brand's first year at MRket.
"I know how to do a private label, but I don't know what to do with my brand," said Export Manager Stefano Pierpaoli, noting that Araldi Milano manufactures leather goods for some of the world's largest brands.
Araldi Milano sources exclusive leathers for their products—shark, crocodile and even stingray. A crocodile belt goes for $1,000 while a laptop case retails for $6,000.
Pierpaoli said the brand came to MRket to find a platform for distribution, noting that its presence in the U.S. market is just blossoming. (Two buyers furiously counting belts at the Araldi Milano booth at the time of this interview might agree.)
Annalisa Calabrese, the fourth-generation owner of Calabrese Napoli, has grown her father's grandfather's company since 1991—expanding the company's offerings from neckties to luggage.
"In Napoli, we have a special tradition of tailoring," she said. "We wanted to create accessories for an elegant man."
Domonique also caters to an elegant man with its collection of Anglo-Italian–inspired umbrellas and ties. Its umbrella handles are made with Connolly Leather—the same interior you'd find in a Rolls-Royce, said Sales Director Benji Gavron.
"I just picked up [an order from upscale Canadian retailer] Harry Rosen," he said. "If I wasn't here, it probably wouldn't have happened."
"MRket gives small brands access," he added. "Everyone is here."