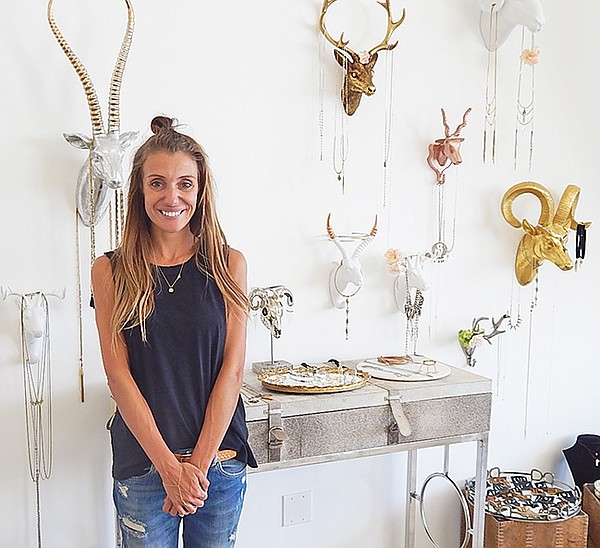 SHOWROOM PROFILES
Showroom Profiles: Nicasa Showroom
Nicasa Showroom
Cooper Design Space, Suite 417
(314) 412-4975
For eight years, Nicole Odenwald was the national sales director for Wildfox, working out of the Los Angeles clothing company's third-floor showroom in the Cooper Design Space.
But Odenwald was eager to branch out on her own. So she recently left her job and moved one floor up, where she is launching her own showroom, which features polished cement floors, tall ceilings and a wall of north-facing windows that let in a steady stream of light.
Odenwald is now representing five different lines that vary from jewelry and contemporary clothing to activewear and handbags. "I really like growing brands," said the petite showroom owner, who has been decorating her space with the help of Kerri Harlow of Messy by Design.
The showroom is decorated in neutral colors such as white, silver and gray with big furniture accented with throw pillows and touches of light pink to make it feel slightly girly. Pink glass doorknobs are used for hanging items on the wall, and gold-colored antelope heads are deployed for displaying jewelry.
"I want it to be a living room—a house with clothes," Odenwald said, explaining that the name of her showroom is a mélange of Nicole and casa, which is Spanish or Italian for house.
Odenwald's new lines include Varley, an activewear line from England founded by Lara and Ben Mead, who split their time between London and Venice, Calif. Odenwald has had the line for only one month, but already she has placed it in Bergdorf Goodman,Neiman Marcus, Planet Blue, and the online shopping sites Revolve and Bandier.
The fashionable line of tights, cropped and long tops made of polyamide and elastane come in animal prints and solids that wholesale for $27 to $53.
Displayed on the wall is the Vanessa Mooney jewelry line, which is made in the designer's studio in Eagle Rock, Calif. Mooney used to design jewelry for entertainer Jennifer Lopez for her tours, but in 2009 she decided to launch her own line. The collection of boho looks and vintage-inspired pieces are delicate and unique, wholesaling for $16 to $130.
Filling the contemporary clothing niche is n:Philanthropy, a Los Angeles–based collection of faux-fur jackets and tops that is described as apparel with a purpose. Wholesale prices range from $104 to $136.
The founder of n:Philanthropy, Yvonne Niami, gives 10 percent of her net proceeds to Children's Hospital Los Angeles for pediatric cancer research and to the Society to Prevent Cruelty to Animals Los Angeles.
Rounding out the showroom collection are Rue Stiic—an Australian line of oversized sweaters, T-shirts, dresses and rompers for the beach crowd—and Sancia, leather handbags made in Bali, Indonesia.