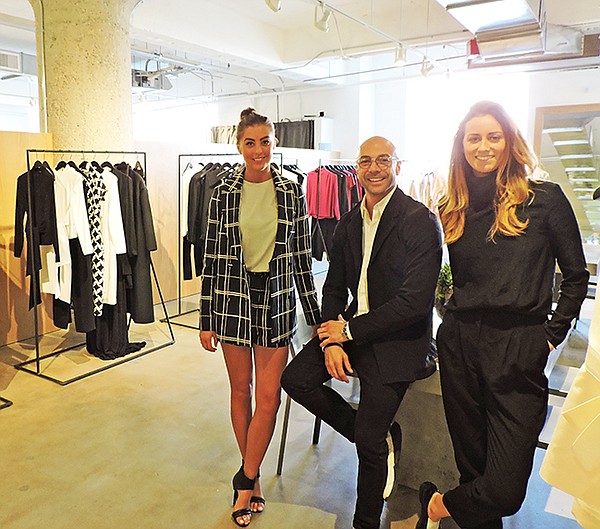 SHOWROOM PROFILES
Australian Fashion Labels
Cooper Design Space
Suite 315
(213) 973-0002
www.australianfashionlabels.com.au
In the days leading up to Los Angeles Fashion Market, the new U.S. team at Australian Fashion Labels was putting the finishing touches on the 4,100-square-foot headquarters and showroom space on the third floor at the Cooper Design Space in Los Angeles.
The new space features a cool, minimalist mix of warm wood, industrial concrete, exposed beams and raw metal fixtures, providing a backdrop for the company's newest launch, TY-LR, a better contemporary women's collection featuring tailored pieces, original prints and a modern, architectural aesthetic.
TY-LR is one of several brands under the Australian Fashion Label umbrella, including Finders Keepers, Cameo, Keepsake and The Fifth, which are currently carried by The Place showroom, located on the Cooper Design Space's 11th floor. Going forward, all new labels under the Australian Fashion Label umbrella will be launched out of the new showroom, including a contemporary men's collection called Esson Heritage, which is set to bow for Spring '16.
Designed for the millennial customer, Australian Fashion Label's collections are "trend-driven" with an "Australian flair," said Kendall Sargeant, Australian Fashion Label's public-relations director, America.
TY-LR is the highest-end line currently in the company's portfolio, with retail prices ranging from $130 to $595. The Fifth is the company's opening line, with retail prices ranging from $30 to $110, while Finders Keepers and Keepsake have an average retail price of $130 and Cameo's average retail price is $150.
Founded in Adelaide, Australia, in 2007 by Dean and Melanie Flintoft, Australian Fashion Labels specializes in employing the fast-fashion business model of monthly deliveries for their premium contemporary collections.
So for the March 16–19 run of Los Angeles Fashion Market, Australian Fashion Labels is showing 8/15 deliveries.
"We don't show multiple deliveries at once," said Marco Lebel, chief executive officer for the company's American headquarters. "Every time customers walk in, there's always new product. It's creating that same sense of urgency that we have at retail. And once they have great sell-through, they don't want to miss a delivery."
The new showroom space at the Cooper serves as sales showroom for TY-LR, a press showroom for the company's other brands and headquarters for a team of 14 working in customer service, sales and public relations.
The look of the new Los Angeles showroom is based on the style of the company's flagship store, BNKR, in Adelaide. The company will be opening its first BNKR store in downtown Los Angeles in May.