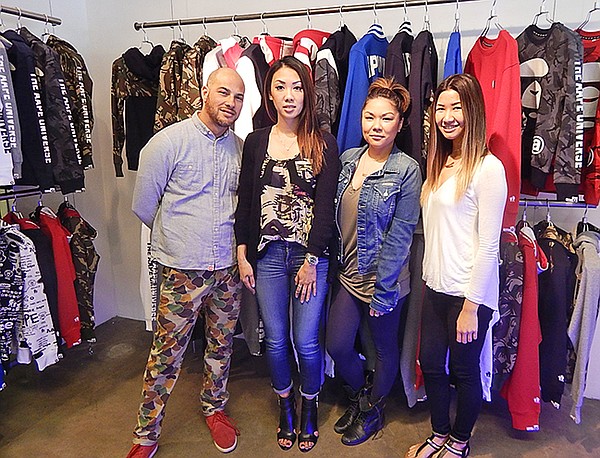 SHOWROOM PROFILES
Mission Showroom

Gerry Building
Suite 203
(213) 330-5775
Inside the Mission Showroom, the décor is minimalist, but the various brands are not. They range from clunky jewelry and fashion-forward sunglasses to colorful men's socks and athletic streetwear.
Danny Cariño, who started his Mission Showroom a few years ago in the Arts District of downtown Los Angeles, recently joined forces with Vicky Le, who had her LeVie Showroom in Santa Ana, Calif. Together they opened a new showroom space in the Gerry Building.
The two represent seven lines that make up their lifestyle-brand showroom. Cariño represents Aape by a Bathing Ape, a contemporary streetwear line out of Tokyo; Ad-Lib, a collegiate men's apparel line out of Hong Kong; Fool's Day, a collection of colorful men's socks from China; Hickies, rubber band–like shoelace replacements from New York; and Indispensable backpacks from Japan.
Le represents Han Cholo, a rock 'n' roll–inspired jewelry collection based in Los Angeles, and Established, a line of trendy sunglasses from Australia.
Cariño and Le decided to move their combined showroom to the heart of the Los Angeles Fashion District to help spur sales. "All of the other showrooms are in downtown. So we wanted to be more local," Cariño said.