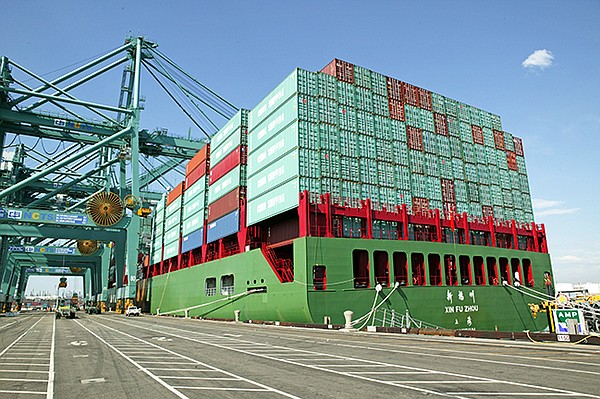 IMPORT & EXPORT
What's Up for Solving the Ports' Congestion Problems

LONG BEACH, Calif.—The lingering port congestion problem may linger a little longer.
Even though a labor dispute has been tentatively resolved, port officials in the Los Angeles area admit it will take at least three months to deal with the traffic jam of goods that has plagued the watery transportation centers since October.
Gene Seroka, executive director of the Port of Los Angeles, and Jon Slangerup, chief executive of the Port of Long Beach, told a crowd of shippers, freight forwarders and high-stakes importers at the recent Trans-Pacific Maritime Conference that the two ports are working as fast as they can to return to normal. "By the third month, I hope by working in concert with the liner [shipping] companies, we can work on how to get the vessels back in a normal order of rotation," Seroka said.
Seroka was referring to the backup of vessels that sometimes have been waiting as long as six or seven days at anchor to sail into a berth. As of March 4, there were still 20 cargo-container ships waiting for space even though a tentative five-year contract agreement was hammered out on Feb. 20 between the International Longshore and Warehouse Union and the Pacific Maritime Association after nine months of negotiations. The contract covers nearly 20,000 workers at 29 West Coast ports. As the negotiations grew tenser, more longshore-worker slowdowns occurred. But there were also infrastructure problems.
The result is that cargo-container traffic volumes coming into the United States will take a major hit this year because importers looked elsewhere to solve their shipping problems. Some people opted to air freight goods in and will continue to do so to keep promotional items arriving on time and factories operating. Others took a look at Canadian and Mexican ports as alternatives to receiving merchandise on time.
Many importers took a big economic hit. Recently, apparel maker Perry Ellis International said it was unable to fill $23 million in orders due to goods arriving late at the congested West Coast ports.
Already, shippers are making contingency plans. In a survey conducted by the Journal of Commerce, the publication that organized the maritime conference, held March 1–4, some 65 percent of shippers said they would send less merchandise through the West Coast ports this year and next year, with about a third of that going to East Coast ports.
Mario Moreno, an economist with the Journal of Commerce, said the problems at the ports made him reduce his 2015 prediction for U.S. cargo-container imports—from 6.8 percent growth to only a 1.7 percent increase.
Moreno characterized the recent port-congestion problem as being one of the worst in recent memory, even more dire than in 2002 when an 11-day lockout at the 29 West Coast ports during the busy holiday import season caused billions of dollars in lost economic activity.
"January [containerized] imports this year stumbled nearly 10 percent on a year-over-year basis, and February will be no less disappointing," the economist noted. "Cargo diversions to western Canadian ports and western Mexican ports will make for restraints for the first half of 2015. On top of that, we have learned some shippers have been using air freight despite the high costs."
While the first half of 2015 will be disappointing, Moreno expects cargo-container growth to pick up in the third and fourth quarters this year, improving 4 percent over the same period last year.
"The good news is that consumers will be buying more durable goods, such as cars and household goods," as the economy improves, more jobs are added and credit eases to buy houses, Moreno said.
Fixing the problems
A contract dispute between longshore workers and their employers was just one element of the port congestion problem.
Another contributor was the shortage of chassis—those wheeled vehicles that go under cargo containers so they can be transported by trucks.
In the past, shipping lines owned and operated their own chassis pools. Ships arrived, containers were offloaded and put on chassis that were attached to the back of a truck and gone.
But when the profit on those chassis fleets declined, the shipping lines began selling their chassis in 2013 and 2014 to leasing companies that got caught off guard with so much cargo coming in last year.
One of the first fixes to the problems has been a "gray" chassis pool, which started operating on March 1 at the Port of Long Beach and the Port of Los Angeles. Under this system, truckers can pick up and drop off chassis at any of the 12 cargo container terminals at the two ports.
Before the "gray" chassis pool was formed, chassis were divided up into different pools run by the three leasing companies and had to be returned to those pools. Those three chassis leasing companies are Trac Intermodal, Flexi-Van Leasing Inc. and Direct ChassisLink Inc.
Now the "gray" chassis pool is one big chassis pool in a cooperative-agreement program between the three leasing companies, which control 80,000 of the 100,000 chassis at the Los Angeles/Long Beach port complex.
"For terminal operators, it means no more segregation. They can put the box [container] on any asset there. It does create a much more fluid process for all involved," said Philip Connors, executive vice president of Flexi-Van Leasing.
The chassis-pool managers are hoping West Coast Chassis Pool, operated by shipping line SSA Marine, comes into the program with its 15,000 chassis.
"What we started with is fine, and it is a big improvement from where we started 12 months ago," said Keith Lovetro, president and chief executive of Trac Intermodal, referring to when the three got together to plan the "gray" chassis pool. "But it is a process of continuous improvement."
Yet chassis fleets are just one part of the equation that needs to be solved. The economic downturn in 2009 and 2010 masked many infrastructure problems that have been building up at the ports.
"We have not seen improvement in terminal productivity in the last six or seven years," said Søren Skou, chief executive of Maersk Line and a speaker at the event. "The economic recession hid the issues that needed to be improved, and there was less investment at the ports. Now we have lost five years in dealing with this."
With U.S. economic growth on a strong upswing, port improvements at the Los Angeles/Long Beach port complex, which handles 40 percent of all cargo-container traffic coming into the United States, is mandatory.
With larger cargo-container ships sailing across the ocean—hauling as many as 18,000 containers instead of 8,500—more cranes that are wider will be required as well as longer and deeper berths.