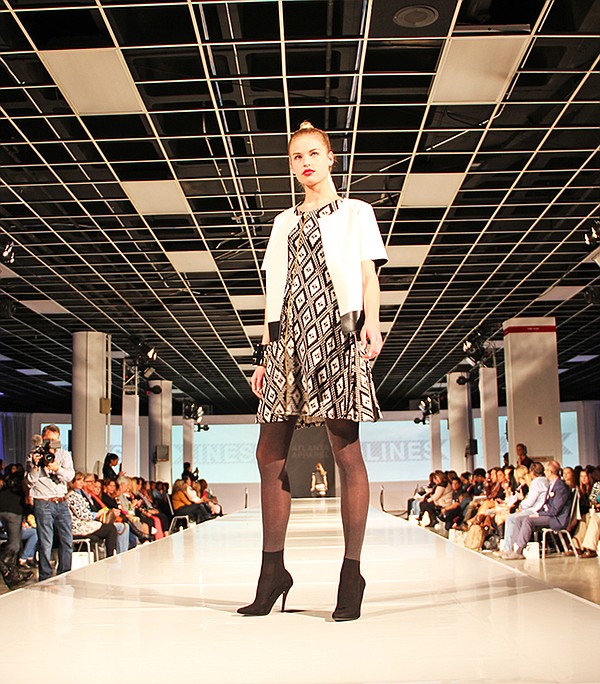 TRADE SHOW
Atlanta's March Apparel Market Brings in the Buyers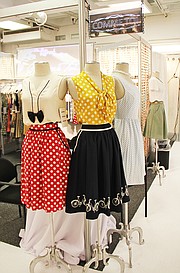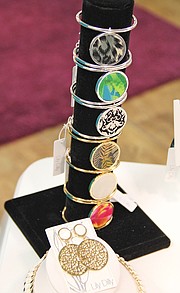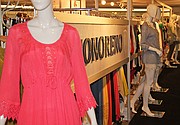 ATLANTA—The March Apparel Market returned to the Americasmart with an expanded temporary exhibitor section and an earlier schedule. "The temporary market was 20 percent larger than April 2014, and 20 percent of all temporary exhibitors were new to the market," said Americasmart Media Relations Manager Chelsea Peabody.
The March 19–23 show was held a few days earlier this year to facilitate sellers and buyers meeting sooner to access seasonal lines. Also this season, the Americasmart opened a new buyer's lounge and hosted Daily Struts, a runway event showcasing some of the best of Fall/Winter 2015 fashions.

Whitney Port added to the celebrity quotient and shared her top picks from market. The TV personality, fashion designer and author also showcased her 6-year-old contemporary line, Whitney Eve, featuring a variety of custom print patterns on dresses, rompers and accessories.

The market included the Lines fashion show, featuring Fall/Winter 2015 looks from across the market, including a Game Day–inspired collection.
April Hope of the April Daze boutique in Stuart, Fla., said she has been coming to Atlanta market for 15 years to source apparel for her two boutiques.
Amanda Rogers, with the Molly Malones boutiques in North Carolina, was upbeat about the offering at market.
"I am shopping for spring accessories, scarves and stockings," she said.
New exhibitors
Many boutique owners shopping the show knew exactly what they had in mind as far as purchases for the season, and many were targeting new exhibitors they had discovered.

Maci Phillips of the Pink Cactus, a boutique in Lebanon, Tenn., which sells young contemporary clothing for 16- to 24-year-olds, was shopping for neons and floral patterns. "I have always come to this show," said Phillips, who said her 3-year-old store is on track to double its sales this year.

Equally enthusiastic were business owners Joan Matkins and Rená Latimer from JRená Accessories in Charlotte, N.C., who were busy reviewing new lines close to the end of the day Friday. "We are exited to see new exhibitors," Matkins said. "We are shopping for jewelry, dressy hats and handbags—even apparel for our two boutiques. Business has been great."
Designer and co-founder of Lily Dilly Designs Tina Dillingham was an apparel-market newbie. "I have done the gift show [three times] but doing the apparel show for the first time to grow my business and sell to a different market of buyers," she said. Her Spring line featured reversible cuff bracelets made with fabric. "We have had many good conversations and hope three out of five will translate to a sale," she said.
Tummy Trimmer Denim, a premium-denim brand based in Salt Lake City and made in the USA, was one of the new lines showcased in the Daily Strut. "We have done well with our other company, Lilac Clothing, so we decided to come to market with this new niche line," said company representative Becca Taylor.
Strong sales
Katherine Way Collections, based in Jacksonville Beach, Fla.,was showing a collection of lively colors and patterns.
"Average orders are up 8 percent to 10 percent over last year," said owner Katherine Way. "The market is better, and there are more boutiques now. There is increased consumer spending and planned buying—reorders for Spring, orders for Fall and Game Day—my dresses sell fast!"
Another show regular was Kristin Oplinger of Los Angeles–based YMI Jeans. "We have been here three years and in all five markets. My booth has grown over time from a 10-by-10 to a much bigger size, and business has doubled." She was busy writing orders for Fall, Spring and Back-to-School. The only drawback for Oplinger was the earlier date, which she said affected traffic.
Blush Noir's Bernard Chung agreed that traffic seemed slightly slower. "This is our second time, and we are seeing lesser traffic than last season," he said. "This is too close to the last market [in January]. It is usually held in April." Still, he was optimistic that orders would rise over the weekend.
Simply Southern's monogrammed products fared well, according to Paula Myers, who represents the North Carolina–based company in Atlanta. "We attend all the markets here, and though the show seems weak, we are still busy," she said. "Annual orders are being written, our products sell quickly, so buyers come back often."
At the booth for Los Angeles–based young contemporary line, Monoreno, business picked up toward the end of the second day of market.
"The market is slow compared to the last one with the dates being so close," said James Paik, Monoreno's regional sales and account manager. "But orders are being placed—especially for Spring and Summer Immediates. People know our products, so our tunics are selling fast."