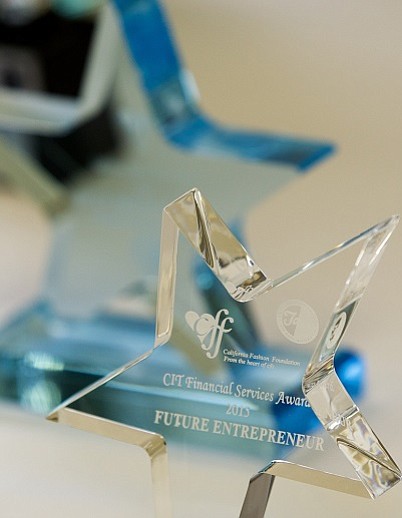 CFF, TALA AWARD
Scholarships for Local Design Students
Industry executives celebrated the next generation of design talent on April 30 at the California Fashion Foundation and Textile Association of Los Angeles annual scholarship awards luncheon.
The event, held at the California Market Center, honored the work of students from El Camino College; California State University, Los Angeles; California State University, Long Beach; California State Polytechnic University, Pomona; the Fashion Institute of Design and Merchandising; Pasadena City College; Santa Monica College; Otis College of Art and Design; Woodbury University; Mt. San Antonio College; Long Beach City College; and Los Angeles Trade-Technical College.
The event featured several guest speakers, including Annabelle Lee, designer and owner
of the young contemporary brand See You Monday, who greeted the students as "my fellow evolutionaries," explaining that "when you create something, you tend to create your own evolution."
Keri Ingvarsson, the new co-owner of Gen Art, explained how the art, film and fashion organization came to relaunch in Los Angeles.
"LA really is the Rome of the modern-day art and fashion world," she said. "You feel the energy here."
Ilse Metchek, president of the California Fashion Association, which oversees the CFF, had some no-nonsense advice for the students.
"That's my big suggestion for you: Get a job," she said.
Tammy Chatkin, the executive vice presi- dent of 24Seven, offered the group some tips for landing that job.
"There's no such thing as a dream job," she said. "There's the right place for you at the right time of your life. Whether you're answering phones or picking out fabrics, do it 150 percent."
Chatkin also advised the students to do their research before the interview, find a mentor in the industry to "say thank you the old fashioned way," to continue to learn, particularly about new technology, and to "be yourself and have fun. It's an incredible industry."
Past president of TALA Ann Davis, a textile sales representative for Eclat, presentedhe 18 awards. For the final award, the Betty Baumgardner award, Davis introduced Allisa Villani, granddaughter of the award's namesake, a patternmaking instructor at Los Angeles Trade-Technical College and longtime supporter of TALA and the scholarship awards.
Villani, who said her grandmother "loved fashion and animal prints and skinny jeans and bling," concluded the event by telling the students, "I look forward to buying and wearing your fashions and keeping you in business for years to come."