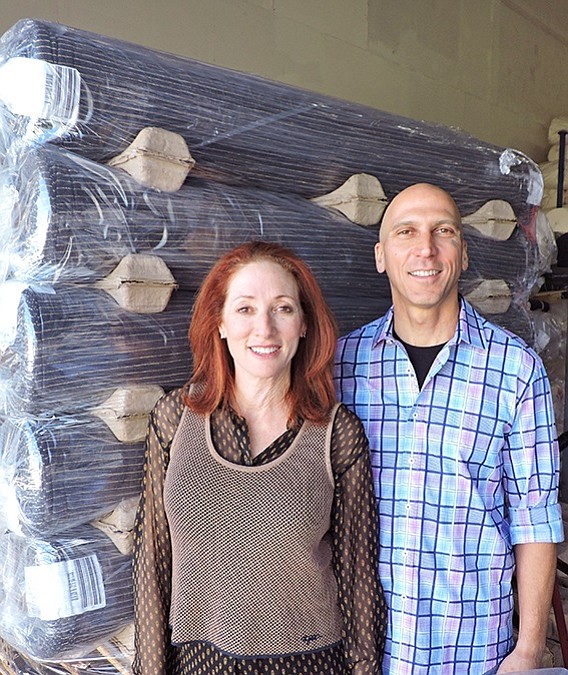 SF KNITS
Knitting a Supply Chain that Stretches from the U.S. to the Caribbean
Steve and Lauren Greenberg have a knack for good timing. The couple arrived in Los Angeles to open their fabric converting company, SG Knits, in 2001 just after the energy crisis in 2000 put other mills out of business. When they expanded their business to include United Pacific Group (UPG), a full-package garment production facility in the Dominican Republic, they did it in 2010, amidst the Great Recession.
Both gambles paid off as SG Knits settles into a new 7,500-square-foot headquarters in Gardena, Calif., after more
 than a decade in downtown Los Angeles. The garment business has tripled in size since SG Knits/UPG took over sole ownership of Aquino Sewing in 2011 after working with the contract sewing company for a year. During that time, it had taken a 50 percent stake in the company and began making improvements to the factory.
"We did this to bring the factory up to our standards with modernized machinery," Steve Greenberg said. "Since that time, we have continued to expand the factory to three times the original size and have added printing and embroidery machines. We are now in the process of adding washing and garment dyeing capabilities."
The Greenbergs had been converting fabrics since 2009 with Norberto Menendez, owner of UPG. As partner in SG Knits, Menendez serves as chief operating officer and vice president.
With the purchase of Aquino Sewing, the Greenbergs and Menendez renamed the Dominican Republic business UPG and soon opened an East Coast office in Moore, S.C., where Mendendez oversees the garment side of the business when he's not overseeing the factory in La Vega, Dominican Republic.
In the last four years, the factory has grown from 80 employees to 250. SG Knits has a small team of nine people in the Los Angeles headquarters, including the Greenbergs' daughter, Alyssa, who recently joined the ranks.
"What we do for the Dominican Republic, 60 percent is in North Carolina," said Steve Greenberg, the company's chief executive officer and president. "We don't even bring it here. The yarn is there. It makes sense to produce it there."
"We view our garment business as a way to sell our fabric," Steve Greenberg said. "Our interest is in people who don't want to buy fabric by the yard. They want to buy by the piece. We show them the fabric, they pick the bodies and we'll deliver it to you. That's the way of the world today."
Full-package production allows retailers and brands to focus on design and merchandising and the retail side of the business, he said. "Think of it as building a house," Steve Greenberg said. "We build the house, but we're not your architect. We're the contractor. We handle all of it. We take that burden away."

The analogy is an apt one made ironic because Lauren Greenberg is a licensed architect who oversees the creative side of SG Knits as the company's creative director and secretary. Steve Greenberg is a second-generation textile executive who studied at the Philadelphia College of Textiles and Science, now known as Philadelphia University.
When his father and brothers left the knitting and finishing business in North Carolina, Steve and Lauren Greenberg relocated operations to Los Angeles.
SG Knits specializes in fashion-forward knits. The move to Los Angeles allowed the company to be closer to its customers as well as to Los Angeles' knitters and dyers.
Over time, the Greenbergs saw growth in production across the Central America and Caribbean region in Guatemala, Honduras, El Salvador and the Dominican Republic.
"We focused on the Dominican Republic," Steve Greenberg said. "It's not the cheapest, but there are direct flights from New York and Miami. Customers from New York fly in in the morning. They'll be in the factory before lunchtime and be back home within 48 hours with no time change. And they've done everything from work with the sample in design to inspection."
United Pacific Group can cut, sew, screen and sublimation print and embroider in-house, and the company is in the process of installing washing facilities. Located in three buildings in a free-zone industrial park, the WRAP (Worldwide Responsible Accredited Production)–certified factory can deliver finished goods within 10 weeks. The garments clear customs and are shipped from UPG's warehouse in Miami.
We handle all of that," Steve Greenberg said. "We give them a price, and it's all inclu- sive."
Customers who can't make the trip to the Dominican Republic can check in on their production via Web cameras set up around the factory.
"We're up to 48 cameras in the factory," Steve Greenberg said. "We give customers a password so they can see their merchandise online in the factory. When we say it's on the cutting table, they have the same access I have sitting at my desk. We're transparent."
That transparency extends to UPG's prices, as well.
"We work with an open cost sheet. We show them our margins," Steve Greenberg said. "Everybody knows the cost today. Everyone knows what it costs to spin the yarn, to knit, to dye. If you want this project, this is what's involved. It's pretty straightforward."
UPG produces apparel as a private-label manufacturer for retailers such as Macy's and Belks. The company also produces private- label apparel for licensed sporting-goods sup- pliers who sell to retailers such as Target, Walmart and Dick's Sporting Goods, as well as for distributors catering to the promotional apparel and resort markets.
"We fit well in the licensed sporting-goods business because of our ability to be flexible," Steve Greenberg said. "That business requires a lot of SKUs. The NFL has 32 teams. Before you know it, an order can have 120 different SKUs. It's not unheard of."
The fabric side of the business is geared to- ward contemporary to better labels.
"On the fabric side, it is all about what we can offer in terms of price," Steve Greenberg said. "It's great when we know the customer and know what we can do in terms of prices."
SG Knits offers a wide range of fabrics and fiber content.
"We're in so many fibers—cotton, poly, Modal, Tencel, wool, nylon and blends," Steve Greenberg said. "Tri-blend and novelty yarns continue to be a big focus of the market for us."
By working closely with customers, SG Knits can often find a way to work with a specific price, either by changing the fiber, the weight of the fabric or the finishing treatment.
"It depends on the customer—they each have their own way to make it special," Lauren Greenberg said. "We're doing more treatments with fabrics. We can use the same yarns, the same knitting, the same dyeing and then add another process."
For example, a double-faced knit with a striped side and a solid side can be finished with a burnout treatment that gives the final piece a distressed, edgy look.
"We can show people how to do it on a garment or on fabric," she said.
Finding ways to creatively solve customers' problems is becoming more important, Steve Greenberg said.
"The biggest challenge for the industry and customers is there's been an oversupply of product available," he said. "It allowed people to be in multiple fibers and fabrics and offer smaller runs, which LA is known for."
But this is changing as Los Angeles knitters and dyers see increased business from offshore producers moving back to the U.S. or existing domestic producers increasing production as the economy improves.
"The hemisphere is growing," Steve Greenberg said. "How that plays out, I don't know. It's going to affect the amount of product the industry can offer. It's going to put more re- liance between partners to make it happen. There's got to be more long-term relationships."