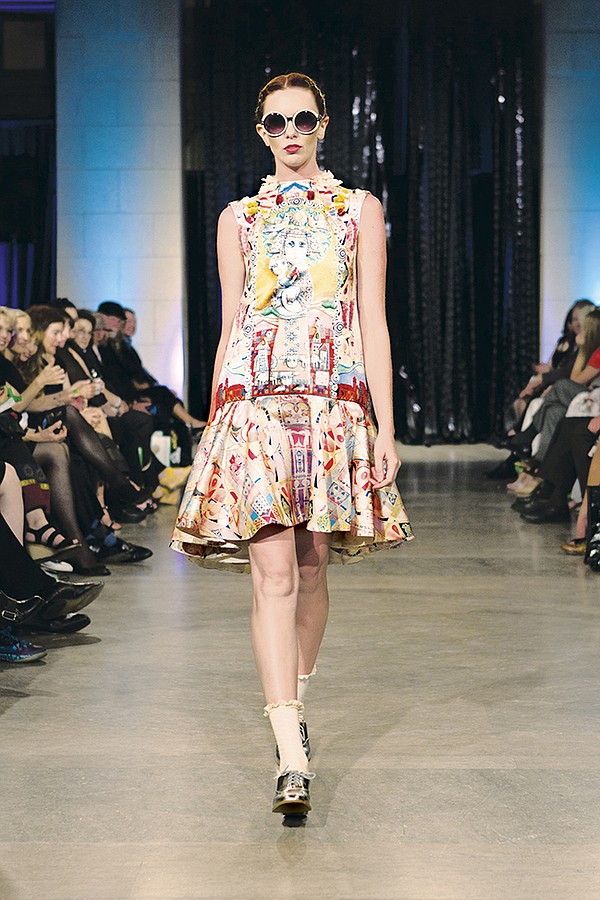 IDENTITY AND INSPIRATION
Woodbury Hosts 51st Annual Runway Event in Downtown
Photo Gallery
Woodbury University's 51st Runway Show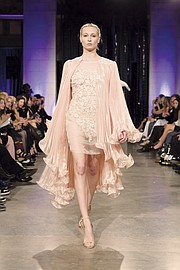 Woodbury University's Annual Runway Show | The Majestic Downtown | Los Angeles | May 3, 2015 | Photography by Jan Lim
Woodbury University returned to downtown Los Angeles for its annual runway show, held May 3 at a new venue: The Majestic Downtown, a 1921 architectural gem of a building that once housed the Los Angeles Bank of America.
Kathryn Hagen, chair of the department of fashion design, opened the show, noting that this is the first group of students who were "the freshmen who started with me on this amazing journey four years ago."
Hagen thanked legacy sponsor and Woodbury graduate Judith D. Tamklin, who founded the fabric fund at Woodbury, which gives students access to high-quality fabrics and research.
She also recognized "two timeless fashionistas and amazing women" in attendance: Rosalind Johnson Henneman, who studied executive fashion arts at Woodbury in 1937 and 1938, and Hildequard Archuleta, a 1955 executive fashion arts graduate whose modeling career included work with legendary designer Rudi Gernreich and makeup artist Max Factor. While studying at Woodbury, Archuleta successfully pitched the concept for the school's annual fashion show.
Woodbury's sophomore students opened the show with a collection of swimwear inspired by the Tokyo Robot Café, featuring futuristic digital prints processed by Colorway Inc.
Another group of sophomores mixed linen, sequins, streetwear and inspiration from British designer Gareth Pugh for a collection of Egyptian-inspired pieces that paired the stark simplicity of linen with gold metallic accents.
Junior-year students designed "Status Streetwear" inspired by "the codes of music, sports, art, social media and culture."
Costume design senior Catalena Lee, working under the direction of Academy Award–winning costume designer Albert Wolsky ("Bugsy" and "All That Jazz"), created looks inspired by the 1928 Louise Brooks film "Pandora's Box."
Woodbury's senior design students explored personal identity and inspiration for their collections.
Sylvia Graham designed brightly printed swimwear and coverups inspired by her mother, who was a model in Costa Rica. Stella Harutyunyan's collection featured tailoring details, oversized silhouettes and fluid gowns. Araksi Balyan's all-white collection was inspired by her Armenian heritage while Rosa Barrera drew inspiration from indigenous cultures for her candy-colored collection with handworked embroidery and appliqués. Ashley Zika combined sports and high-performance fabrics for her collection of men's and women's streetwear. Juan Olivera mixed pinstripes and sharp tailoring for his women's collection, and Alisa Tovmanyan's collection featured dreamy digital prints inspired by Armenian folk art. Jenine Nerecina's romantic lingerie and loungewear pieces were inspired by the formalwear of her native Philippines. Self-described "professional dreamer" Polina Zeynalian showed a collection that mixed moody digital prints, spider-web fabrications and architectural silhouettes. And Brittany Wise drew inspiration from San Francisco and Los Angeles for her collection, which mixed color and fabrication to combine structure and movement.