MANUFACTURING
Denim Maven Adriano Goldschmied Turns His Focus to Knits With Acynetic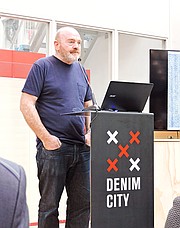 AMSTERDAM—Adriano Goldschmied's career developing brands including Diesel, Replay, AG Adriano Goldschmied, Citizens of Humanity men's and Goldsign has earned him the nickname "the Godfather of Denim."
For his next act, Goldshmied is leaving the denim loom behind in favor of the circular knitting machine.
"Sometimes innovation is an evolution and sometimes it is a revolution," he said, speaking at the recent Kingpins denim-sourcing trade show in Amsterdam. "This is a time for a revolution. You don't start from something you did yesterday."
Goldschmied's latest product launch, Acynetic, is a collection of knits that look like denim but have the stretch, comfort and performance of activewear.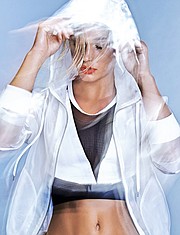 "The future is about knit denim," he said. "It has the look of denim but the performance of sport fabric."
Goldschmied described Acynetic as a denim collection "that doesn't have one single denim in the line—it is only knits."
Acynetic launched in Paris in September, and Goldschmied is looking at a very specialized distribution for the collection. He expects just a handful of U.S. retailers to carry the line. The collection is produced in China—"China today is the right place to develop high-tech product," Goldschmied said—and retail prices range from $90 to $140.
"It's limited distribution, but we want our customers to sell a lot of product," Goldschmied said.
The idea for Acynetic came to Goldschmied when he accompanied a friend who was picking up her daughter from school in Beverly Hills. Five years ago, all the mothers were wearing jeans, Goldschmied said. When he went back to the school recently with his friend, half of the mothers were wearing activewear brands such as Lululemon or Nike.
"A lot of women just throw on a zipper jacket and leggings," Goldschmied said.
"The idea of comfort is going in a radical direction," he told a group of Kingpins attendees. "It's going to be a tremendous change in the industry."
With his new focus on knits, Goldschmied was at the Kingpins Amsterdam show to speak on several panels and to meet with others in the industry to work on special projects.
"I have a lot of collaborations with mills," he said. "[This is] an opportunity to talk to the very influential people who are here."
For more information about Acynetic, visit www.acynetic.com.