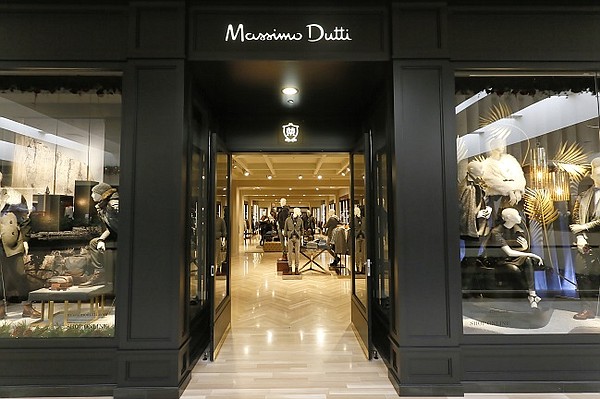 RETAIL
Massimo Dutti Opens First West Coast Store in Southern California
Zara stores seem to be in every major U.S. city, but its more-upscale sister store, Massimo Dutti, had been a stranger to this country.
That seems to be slowly changing. Massimo Dutti opened up its first West Coast store on Nov. 20, selecting South Coast Plaza in Costa Mesa, Calif., to debut its California outpost.
Massimo Dutti took over a former Gap store located on the second floor near Bloomingdale's in an area increasingly populated with what is called high-street retailers—shops with trendy clothes that won't break the bank.
Surrounding stores in the high-street area include Madewell, COS, Scotch & Soda, Banana Republic and the soon-to-arrive & Other Stories, a division of Swedish fast-fashion retailer H&M.
The new Massimo Dutti store, which is a division of Inditex Corp., based in Spain, encompasses 8,891 square feet. The interior—which houses men's, women's and accessories— is finished with walnut wood, brass, leather and dark marble designed in a modern style.
The first Massimo Dutti store in the United States opened a few years ago on Fifth Avenue in New York City, occupying a vast 13,670 square feet that had been occupied by a Zara store, also owned by Inditex. Soon a store opened in Washington, D.C.
Massimo Dutti clothes have a trendy, European vibe to them but at prices that are above fast-fashion selections but way below designer goods.
Women's sweaters sell for around $54, women's trousers go for $65, and dresses generally range from $65 to $86.
The retail chain, launched in Italy in 1985 as a menswear store, was acquired by Inditex in 1990.