MANUFACTURING
Men's Sock Trend Leads to Sale of California Sock Company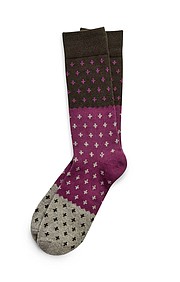 When former President George H.W. Bush was seen a few years ago sporting bright pink socks with a gray suit, you knew the "statement sock" craze had thoroughly taken hold of the men's fashion scene.
Men's socks have been one of the bright spots on the retail scene as dudes—hipsters or not—are finding they can dress conservatively for work but maintain a subtle splash of rebellious color by sporting bright socks under dark suits or khaki pants.
With sock sales on the upswing, it was only a natural step for Shoes.com, a multimillion-dollar online shoe retailer based in Canada, to recently acquire Richer Poorer, a small 5-year-old sock company in San Juan Capistrano, Calif. Terms of the deal were not disclosed for buying the sock company, whose revenues are under $10 million a year.
"Richer Poorer has built a culture founded on hark work and hustle and a brand that resonates with the Shoes.com customer," said Shoes.com Chief Executive Roger Hardy, whose online company has about $250 million in annual revenues.
"Over the past several years, the apparel and accessories categories have transformed from everyday commodity items such as socks and underwear to fashion statements —bright patterns, technical-quality material and a high level of detail. This transition presents a great opportunity for Shoes.com to diversify beyond footwear into a high-growth category."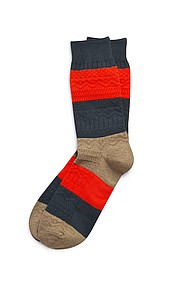 Marshal Cohen, a retail analyst with The NPD Group, said this is a nice marriage for Shoes.com. "For them, it takes them beyond shoes. They are doing some serious soul searching to round out their portfolio of products. They have to become a lifestyle retailer," he said.
While Shoes.com has been around for nearly two decades, Richer Poorer wasn't launched until late 2010 by Iva Pawling and Tim Morse—two people with no knowledge of the sock industry. Pawling had a lot of experience in brand building. Her first job after college was as a minion in the public-relations department at Kate Spade. Eventually, she became the vice president of brand development for jewelry line Gorjana.
Morse's background was in the tech world, where he spent about a decade working in Northern California. But starting a fashion company was always on his mind. Growing up in Laguna Beach, Calif., he had worked in the marketing department of Gotcha sportswear and rubbed shoulders with friends working at Quiksilver and Volcom. "I had a real passion for fashion and surfwear," he said.
Morse and Pawling met in a spin class, soon becoming friends and, later, business partners, deciding to pursue a dream to start their own venture. They noticed that not many companies seemed to be addressing the men's sock category with creativity. "We started looking at socks, and we thought it was a really good idea," Pawling said.
The men's sock craze got a push in 2008 by Nike, which released the "Elite" sock collection, an athletic sock that came in various colors and prints and sold for $14 to $18 a pair.
Also in 2008, Swedish brand Happy Socks jumped into the category with an array of bright colors for every man, woman and child. But the sock craze was still basically unchartered territory, except for Stance, which was founded in San Clemente, Calif., in 2009 and started shipping fashion socks in 2010. During Stance's first four years, it sold 15 million socks and this year was named the official sock of the National Basketball Association.
In April 2010, Pawling and Morse worked on their business plans for their sock company, launched in December 2010.
Their timing was good. The economic recession was over, but people were still trying to get back on their financial feet. Socks were relatively inexpensive but added a touch of luxury shopping. Most Richer Poorer socks are priced at $12.
The socks are manufactured primarily in South Korea, which has a free-trade agreement with the United States. That means the normal 13.5 percent tariff on socks is waived.
"We launched with 30 accounts in December and grew the business from there," Pawling said. Major retailers that have carried Richer Poorer socks includeBloomingdale's, Nordstrom, Free People, American Rag and Trunk Club. It is now sold at more than 800 retailers internationally.
Richer Poorer started with men's socks and two years later added women's socks to the mix. By the end of 2013, children's socks were woven into the merchandise lineup, and nine months ago Richer Poorer added men's underwear as well as athletic socks. Soon, the Orange County company will be launching basic T-shirts.
The company's rapid growth in the last five years has been helped by the fact that men's fashion is on an upward trajectory, and socks have become the new power tie.
"Socks last year were a hot category, particularly in the men's market, and it has migrated over to being hot in the women's market," said The NPD Group's Cohen.
Cohen said men's socks started clicking on the athletic side of the category about 18 months ago and then moved over to the fashion side 12 months ago. Lately, men's sock sales have leveled off as women have taken a new interest in the category. During the 12 months ending in September, men's sock sales were down 1 percent to $2.9 billion while women's sock sales inched up 3 percent to $1.8 billion, according to The NPD Group's research department.
With their company growing with the sock trend, the two Richer Poorer founders recently started looking for more funding to expand the business. They approached Shoes.com about investing in the sock company, and the conversation went from there. "We were originally trying to get funding, and the acquisition conversation came up a month or two later," Pawling said.
The combination of the two—socks and shoes—seemed like a natural. Morse said Shoes.com is perfect to work with because the website has so many customers, with 85 percent of them are in the United States. "We are pairing the cool of our company with someone who has an understanding of the transactional relationship with 10 million to 12 million consumers. That can create lightning in a bottle," Morse said.
With new resources, Richer Poorer is getting ready to grow quickly. Already the staff of 12 has been boosted to 15, and another six employees are expected to come on board by the end of the year.
Shoes.com's first goal is to introduce Richer Poorer socks to the Canadian market.
"We have some pretty robust plans," Pawling said. "Each year we are going to try to double our revenues."
Shoes.com, with its online expertise, has a treasure trove of resources to grow Richer Poorer's e-commerce site and expand its retail stores. "We are building a lifestyle brand that started in socks," Pawling said.