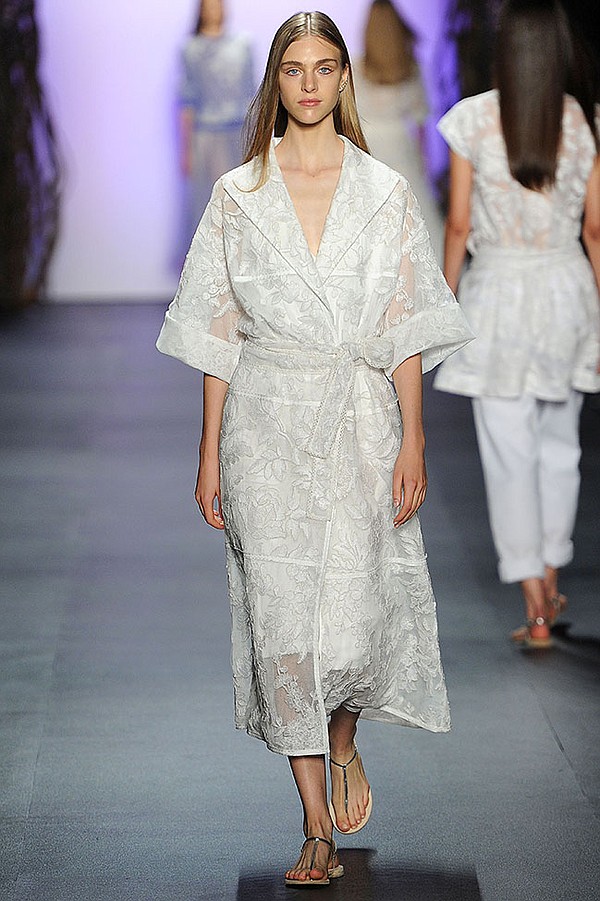 RELAXED, FEMININE CHIC
Spring '16—Relaxed, Feminine Chic
From '70s glam to loungewear chic, this Spring will be a decidedly feminine affair. California designers are creating pretty, statement-making looks—with a relaxed attitude. Inspiration is drawn from exotic locales including the faded grandeur of Havana, the colors of Joshua Tree, and chic escapes to the Côte d'Azur and Amalfi Coast. For Spring, this means a newfound femininity and versatility for the modern woman's multifaceted lifestyle.
"We are realizing the pure essence of elegant femininity," said Lavi Mirzak, creative director for Sam & Lavi. "To remain natural and effortless is the key to fashion's new face." Vibrant colors, print and texture mixing, head-to-toe prints, lace, florals, shirtings, and soft pajama looks are top trends highlighted by Trina Turk. Comfort is also key. According to Tadashi Shoji, modern-day pajama daywear and streetwear-inspired style have really caught on.
"More so than ever, women are looking for pieces that are effortlessly chic and easy to complement their busy life schedules," he said.
Look for activewear-inspired looks, artisan effects and boho chic to continue—and there will be plenty of pants this season, including '70s-inspired denim. Here is a look at key trends for Spring '16.