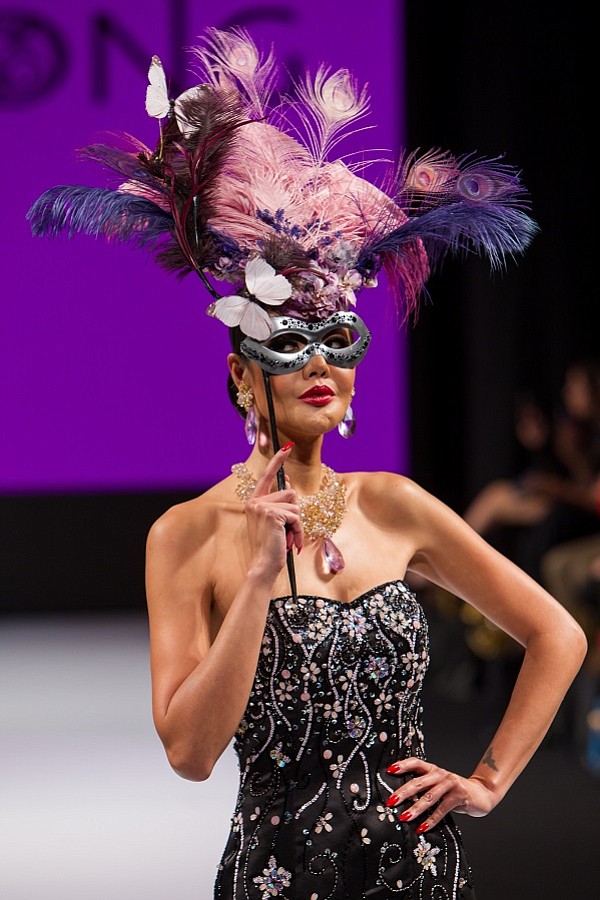 L.A. FASHION WEEK
Sue Wong Opens LA Fashion Week
Designer Sue Wong has been a part of Los Angeles Fashion Week since the days of IMG and Smashbox, so it was fitting for her to kick off the latest run of the event on Oct. 5 at Art Hearts Fashion at the Taglyan Complex in Hollywood.
Wong's shows always draw a standing-room-only crowd of industry insiders, actors, performers and celebrities. In recent season, the designer's shows have included members of rock royalty on and off the runway. But this season, she included actual royalty to the stylish mix.
Prince Waldemar Stephen of Schaumburg-Lippe, his wife Princess Antonia Schaumburg-Lippe and their son Prince Mario-Max Schaumburg-Lippe were among the guests at the show.

"I feel so royally honored tonight," Wong said, adding that the prince and his family have "made my life feel more royal."
Before the runway show, Wong received a pair of awards from the royal family and from California State Assembly member Miguel Santiago.
"I'm getting so many awards, it seems like my career is winding down but I'm happy to announce that it's just revving up." Wong said.
For Spring 2016, Wong showed a wide-ranging collection that included the designer's signature embellished eveningwear, as well as her new collection of day-to-evening dresses. Models floated down the runway in dresses featuring intricately beaded bodices paired with diaphanous chiffon skirts. There were meticulously rouched styles that defined hourglass figures and romantic gowns trimmed in lace, embroidery and appliques.

Wong topped her designs with elaborate headpieces trimmed in feathers, silk flowers and beads. There were also edgier accessories such as a black sculptural piece that encased a model's torso; a red, spiked Mohawk headpiece and gold spiked epaulettes worn with a matching hood. The headpieces were designed by Maritza Regalado for Atzi Designs; What a Betty by Betty Long and Kicka Custom Design. Jewelry was by Joe Polthakorn's Vilaiwan collection and handbags were by Mary Frances
Typically, fashion show attendees will applaud the pieces they particularly like. At Wong's show, the guests leapt to their feet and began snapping cellphone photos.