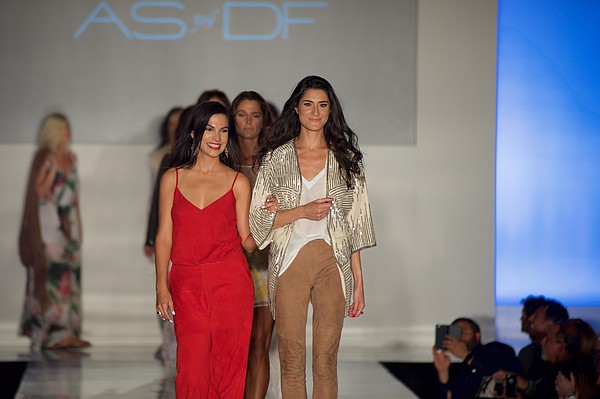 ALL ABOARD FASHION
AS by DF Honored at Fifth Annual FBI All Aboard Fashion Week Show
Denise Focil, designer of the AS by DF and ASTARS collections, received the Moss Adams Fashion Innovator award on Oct. 13 at Fashion Business Inc.'s All Aboard LA's Fashion Platform runway show and fund-raiser for the nonprofit business organization.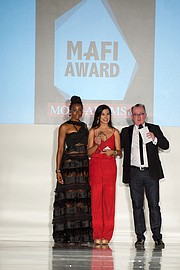 "This year's Moss Adams Fashion Innovator (MAFI) award to Denise Focil and AS by DF represents what the award strives to celebrate—innovation in design," said Martin Hughes, Moss Adams LLC partner and apparel practices leader. "With the collections' new direction, rich textures, attention to detail and sophisticated silhouettes, the brand was clearly deserving."
Focil presented a runway show for AS by DF—the first in the label's two-year history. The contemporary collection is the higher-end women's division under the Alpinestars umbrella. When Focil joined the motorsports apparel company in 2000, she started designing men's and women's technical motorcycle jackets in the company's offices in Italy. Today, the Fashion Institute of Design & Merchandising graduate is based in Alpinestars' U.S. headquarters in Torrance, Calif., where she designs AS by DF and the diffusion brand ASTARS.
Focil said she was excited for the opportunity to show the collection on the runway to some of her key buyers, who were invited to attend the event, as well as the chance to introduce AS by DF to new faces.
"I'm excited to have won the award and for the opportunity to showcase the collection to so many new people," she said.
For Spring, AS by DF was inspired by a sense of luxe travel, Focil said.
"The Spring collection is all about a new year and a lightening of the spirit and a fresh canvas for new and endless possibilities," she said.
The line features airy silks, a tropical print and lots of springtime suedes.
"I wanted to interpret suede in a spring way, in spring silhouettes and colors," she said, adding that suede pieces have been among the line's best-sellers for Spring 2016. "That's what's been resonating with retailers," she said.
The award also comes at a time when AS by DF is expanding its reach, Focil said. Nationwide, AS by DF is carried in more than 300 boutiques, includingSatine, Fred Segal Santa Monica, Stylehäus, Lulu's and Rawk in Southern California.
"We are opening up so many fantastic retailers across the country," she said. "We're on fire on the sales end of things."