EVENTS
Fashion's Future Discussed at FWLA Debut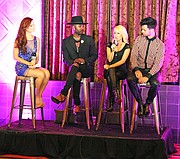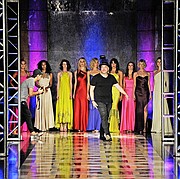 Disruption and sustainability in fashion were at the forefront of discussion during the Oct. 12 debut of Fashion Week Los Angeles at Union Station. Offering runway shows spotlighting local designers and a series of panel discussions, the event was open to industry members and the public.
"We feel it has been a great turnout," said James Keoso, an associate producer for the event. "We feel LA is the next fashion town, and given that Union Station is an iconic LA landmark, plus with the revival of downtown LA, it was the perfect place to host our event."
Panel subjects ranged from the disruption of the industry via Internet development to ethical and sustainable practices. There were also peripheral subjects geared toward the public, such as cosmetics and skin care as well as celebrity styling.
E-commerce (online platforms), m-commerce (mobile phone/tablet platforms) and social media (such as Instagram) were the central focuses regarding the disruption taking place between fashion brands and their consumers.
"When the Internet first went mainstream, we surfed it. Then it evolved into us being able to search. With the birth of YouTube and Facebook, we were then able to start sharing," said Linda Arroz, panel speaker and media expert. "Now we are in the initial stages of using the Internet to shop. It is an exciting time because stores have more bandwidth than ever before to reach their customers, as long as they embrace the changes and evolve."
Arroz went on to discuss how hubs such as Google and social-media sites such as Pinterest are updating their algorithms to make shopping easier with one-click purchasing.
"Five years ago, people had to visit specific websites to purchase what they wanted. Now, we are seeing more and more 'Buy It Now' buttons, where the customer only has to click it, and the item can show up within hours on their doorstep," Arroz said. She went on to stress that these changes are not exclusive to big-box retailers. "Small- and medium-size businesses have the opportunity to use an increasing number of channels, such as eBay and Pinterest, to take their stores and brands online and change with the times."
Designer Lavi Mirzak, who has a showroom in the California Market Center for her Sam & Lavi collection, agreed with Arroz, saying, "We are taking our showroom more online, to connect with our brands and buyers."
While Mirzak still meets with buyers in her showroom, she and her business partner use the space to offer styling and consulting services to stay relevant.
Sustainability was another common thread throughout the evening over multiple forums. Caitlin O'Conner, an aspiring actress who has roughly 300,000 followers across her social-media channels, led a discussion on ethical practices, such as using recycled plastic bottles to make vegan leathers. The beauty panel, led by Hollywood makeup artists, also touched on eco-friendly practices, shedding light on how organic, paraben and gluten-free products are up-trending currently in the beauty industry. Participants in the celebrity stylist panel also discussed how their environmentally conscious clients have started consciously choosing to wear and represent brands that adhere to ethical and sustainable standards.
Runway shows were broken into two groups: Pret-a-Porter—which showcased XCVI, Clavon Leonard, Kini Zamora, and Joshua Christiansen—and Bridge and Designer Brands, which included Octavio Carlin,Oday Shakar and Gordana Gehlhausen.
The event was sponsored by Toshiba, which set up a computer bar in the lounge area, where attendees were encouraged to share their experiences on social media using #FWLA.
The FWLA committee plans on hosting biannual Fall/Spring productions concurrently with Los Angeles Fashion Market moving forward. For more information, visit www.fwla.com.