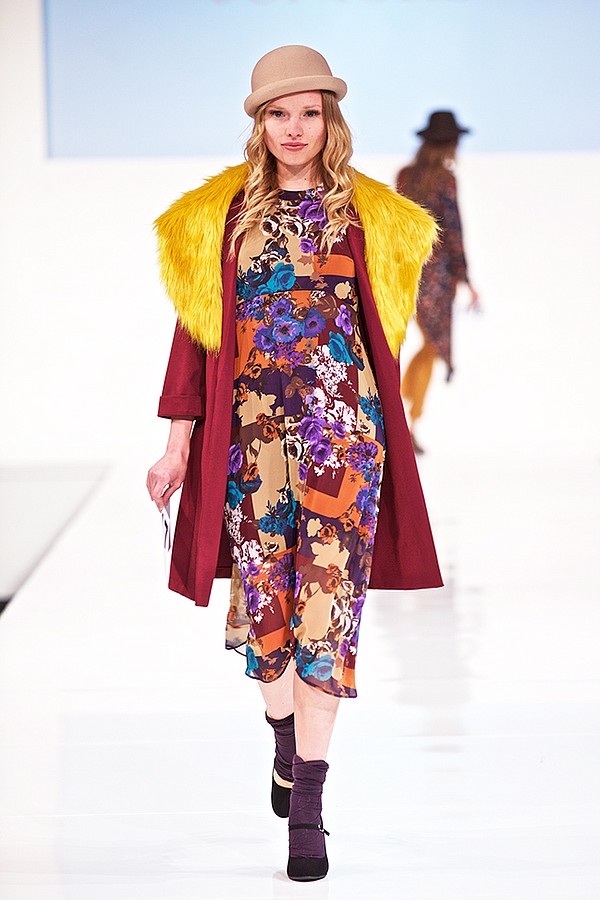 FALL FORECAST
Directives West Highlights Major Trends for Fall/Winter 2016
Photo Gallery
Directives West Trends for Fall/Winter 2016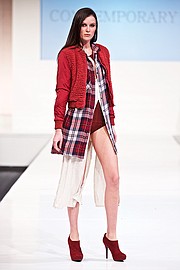 Floppy hats, faux-fur vests, peasant tops, leather jackets trimmed with fringe, slouchy sweaters, ponchos, lacy dresses, plaid pieces and plenty of worn denim were at the top of the trend chart for Fall/Winter 2016.
Store buyers packed the Fashion Theater at the California Market Center on April 4 to see the semiannual trend forecast presented by buying office Directives West.
Shelda Hartwell-Hale, the company's vice president, introduced the show by noting that the retail industry remains in a state of change. "We need to continue to adapt and cultivate in order to respond effectively to the changing consumer environment," she said. "Buy now, wear now makes us reevaluate our deliveries."
Social media and various online platforms have been instrumental in shaping consumers' demands and retailers' performances, she added.
The runway presentation featured 170 looks that spanned categories ranging from contemporary and misses to juniors and accessories.
Skinny pants continue to resonate in all categories as do longer and shorter dress silhouettes. Plaid made an appearance in casual jackets, blouses and dresses while lace was seen as an accent on dresses as well as cropped tops. Corduroy and velvet added to the 1970s retro feel of many of the trends.
Top color choices for the season included maroon, rust, brown and various shades of blue. Black-and-white prints and pairings were heavy in all categories.
Key items for the contemporary crowd included ankle jeans and culottes—both straight and skinny—with high waists, iron-on appliqués, distressing and exposed buttons. Also important to the contemporary customer for Fall/Winter are rompers, updated peasant blouses with billowy sleeves and folkloric embroidery, bomber and moto jackets, the feminine dress, retro bodysuits, two-piece sets in velvet, leather and suede as well as crop sweaters with funnel, turtle and mock necks, tie fronts, and rounded shoulders.
For juniors, the ankle skinny continues as a mainstay with loads of softness and recovery. Grandpa-type cardigans that are roomy and comfortable are popular for the season as is the soft pullover with hatchi fabrics dominating in easy high/low forms. The knit swing dress and the folk dress were on the runway as were the winter romper, plaid shirts with lace and embellishment, and cozy head-to-toe looks great for lounging at home.
In the misses category, the statement sweater was making a statement with mixed yarns, fringe and tunic lengths. Non-denim bottoms made of ponté and novelty leggings were important. Denim was front and center with various pant silhouettes ranging from the boyfriend and boot cut to the skinny. They were matched with casual denim shirts. Lots of plaid populated this category as did novelty knit tops with asymmetrical hems, ribbed knits and thermals.
When it comes to jewelry, long necklaces, chokers, hoop earrings, saddlebag and hobo purses, berets and faux-fur stoles, mufflers, vests and scarves complemented the various styles.