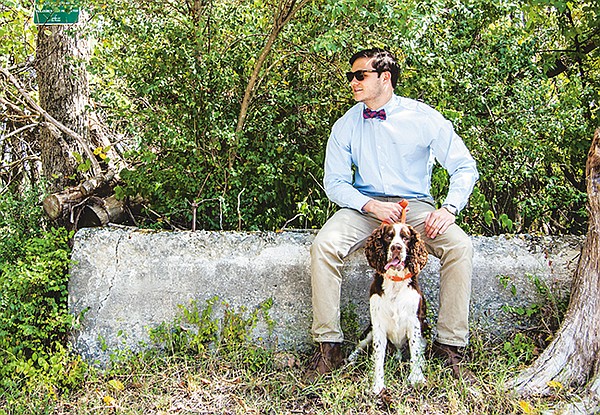 COLLARED GREENS
Collared Greens: Leveraging a Made-in-America Supply Chain for a Green Take on Preppy Menswear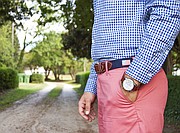 Collared Greens might be one of the catchiest names around for an apparel firm. Its play on words comes from its roots in the South, where everyone knows eating collard greens on New Year's Day, along with black-eyed peas, brings good luck and fortune. The "Greens" part of the name comes from the company's focus on being eco-friendly and donating to environmental causes.
The firm was conceived in 2008 and has quietly—albeit slowly—grown. Now it appears poised to realize some of that good luck and fortune its name connotes.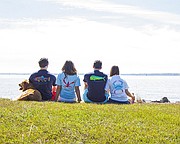 Richmond, Va.–based Collared Greens is a designer, distributor and retailer of apparel targeting men with a taste for preppy clothing. It sells through e-commerce, a single store in Richmond and wholesale with products available to consumers through a network of fine men's shops, women's boutiques and a lot of outfitter stores. Products include ties, T-shirts, button-down shirts, shorts, swim trunks and assorted accessories.
"We need to sell high-end, premium products," said Mason Antim, the company's president. "The fabric comes from overseas, but the products are made by American workers. We are a bootstrap company. There are no outside investors, just family and friends."
The company has gone to great lengths to find U.S. makers for its various apparel. Ties and bow ties are made in New York City; button-down shirts, polos, swim trunks and shorts are made in Philadelphia; and T-shirts are made in Los Angeles. Most of the cotton used in the products is grown in the U.S. The biggest sellers are ties and bow ties, followed by the button-downs and T-shirts.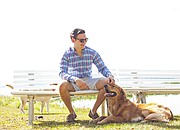 After establishing a base of retailers across the South and up the Eastern seaboard, Collared Greens is now ready to go national with a goal of having at least one retailer in every state by the middle of this year. This year is shaping up to be big for the company.
"We have gotten ourselves teed up for a year that will hopefully see growth in the brand," Antrim said. "We have great lines for Spring and Fall. There's no excuses for us to not hit home runs this year."
Added Jon Jones, Collared Green's chief operating officer, "Last year was a catch-up year for us. We've been taking measured approaches. We have a great Southeast sales rep, and our Florida rep has been doing well for us. We provide quality goods and even better customer service, making sure people get their goods promptly. If you get your shirt and you hate it, send it back. We'd rather you get something you like."
With the move westward comes introduction of more products.
"This spring we are selling jersey polos for the first time, and they are turning out great," Jones said. "We've expanded our button-down line too. We're always looking for more options for our customers."
Personnel-wise, the company is small, with just nine employees. The Richmond store serves as a showcase for Collared Greens' products. There are no current plans to grow beyond the single store.
There is considerable anecdotal evidence that the "Made in the USA" aspect of Collared Greens is a major driver of its business, according to Antrim. "People are becoming more conscious about how things are sourced and produced. We try to produce goods that are better quality and are better looking and then put them at the same price point as our competitors. We hope that Made in the USA helps consumers make their purchase decisions. People do see that and recognize that we make things here. Younger kids are brand-oriented, and we have to play into that a little bit."
The process of finding U.S.-based apparel suppliers can be a chore. There's a lot of trial and error in finding suppliers of top-quality goods, according to Antrim. Relationships must be built.
"Being a small company and working with small batches, there's a give-and-take process of learning about each other in the beginning," Antrim said. "We go to trade shows and talk to people. It's a fluid thing."
Collared Greens is structured as a team-oriented company, and its design effort clearly illustrates this. "We talk about it and get in a room and yell at each other and the design comes out over time," Antrim said. None of us have textile backgrounds or textile education. Our suppliers help us with the guts of it, and we try to do the makeup. We look at all color schemes and use data on what sells better and what goes with other colors."
Maintaining the U.S.-anchored supply chain looms as the company's biggest challenge. The required pace of restocking merchandise is accelerating as demand grows.
"We have to deliver as promised and make sure it all clicks," Antrim says. "There are still a great number of Americans who don't know who we are yet. We're always trying to expand on a grassroots level."