MANUFACTURING
Sustainability, Transparency and 'Clean'Denim Production at Kingpins Transformers LA Pane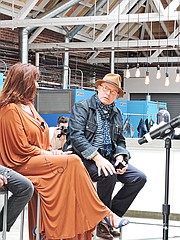 To kick off the opening of the new Candiani Design Center in Los Angeles, denim trade show Kingpins hosted an event for the city's denim industry that focused on the challenges—and benefits—of sustainable denim production.
Denim designers and executives turned out for the March 18 event at the downtown Los Angeles design studio owned by Italian denim mill Candiani. The new facility features a small laundry and development area equipped with industrial washing and drying machines, a Jeanologia laser finishing machine, a spraying booth and stations where jeans can be hand finished.
Alberto Candiani, the company's global manager and great-grandson of the founder of the Italian mill, said they chose to open the LA design center in a mixed-use neighborhood close to residential buildings and a hospital to demonstrate how to run a clean denim finishing facility.
"New technology always goes together with sustainability," he said, using automobile innovation as an example: People want cars to be increasingly innovative without sacrificing gains made in energy efficiency.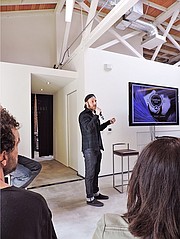 "People see denim as a polluting fabric with lots of water waste," Candiani continued. "We invest in technology to make something that looks better and performs better. We still believe LA is the capital of denim. We're trying to raise the bar as to what means premium in LA. This structure is a new starting point. Everything we do has to be efficient, cost effective and clean."
Candiani was part of a panel discussion that included Andrew Olah, founder of the Kingpins trade show; Mark Werts, owner of the American Rag stores; Mattia Donadi, vice president of production for New York–based, Italian-made denim brand R13; Paul Cowell, global head of brand marketing for Archroma; and Sheila Foreman, consultant and former owner of Garment Industrial Laundry.
Cowell's company, Archroma, is a Switzerland-based global color and specialty chemicals company. Among the company's products for denim are Advanced Denim, an indigo solution; colorfast Stay Black and Stay Navy dyes; SmartRepel Hydro water repellent (Cowell described it as "monsoon-type repellency"); Optisul C dyes for printed and coated fabrics; Diresul Pacific Blue RDT ocean-themed sulfur blue and green dyes; and EarthColors dyes made from agricultural waste such as almond shells, rosemary leaves and olive leaves.
Rather than sustainable denim, Cowell said he prefers the term "rational denim—because it makes sense." He called on brands to take the initiative by including sustainability metrics on their purchase orders. "The true cost and impact of textile manufacturing is measurable," he said.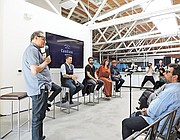 Advance Denim can reduce the amount of water used to make a pair of jeans from 14 liters per pair to 1 liter, Cowell said. "If only 10 percent of the world's denim switched to Advance Denim, there wouldn't be a water shortage."
For R13's Donadi, sustainability means "[partnering] with great textile mills and [manufacturing] in Italy. Logistically, we have less of a carbon footprint than if we ship to LA. Why should I ship halfway around the world when I know there's an industry that needs to be fed?"
Donadi said the company is investigating producing in Los Angeles, but it would have to use domestic fabric.
The impetus for development should be the look rather than the cost, Donadi said.
"I develop something because it's beautiful," he said. "Sourcing is not that complicated. We're making it way more complicated than it should be because we're chasing money."
But the reality is that apparel is a cost-driven business. When the denim business took off in the 1990s, Forman had facilities in Los Angeles and El Paso, Texas.
"We had six laundries all full," she said.
Before closing the last factory in December, Forman said, she spent five years trying to work with the city of Los Angeles on a water-reclamation program.
"It's about saving the jobs and making it right," she said. "[But] when it got to the customers, they only cared about price," she said. "It's like, 'Can I have $9 worth of beautiful?'"
American Rag carries more than 100 denim brands, but according to Werts, American Rag customers have little interest in how their jeans are made.
"Does anybody come in asking where the denim was washed?" he said. "Never. Does anyone ask whether it's laser washed or water washed? Never."
But this could change, the panelists agreed. Candiani acknowledged that there is a growing interest among consumers in how things are made. At Candiani's LA Design Center, there are artisans working with technology, he said.
Both Forman and Donadi agreed that education is key.
"I think education changes culture­—it's fundamental," Donadi said.
Forman takes students from the Fashion Institute of Design & Merchandising on laundry tours. "I've had people come through and ask what the sandpaper is for," she said.
But Olah said it may require "education at a higher level" to encourage a wide-scale adoption of sustainable practices.
"You need to educate the people making the decisions," he said. "Transparency is complicated. To be transparent you have to give access to all the inputs. You have to get into the fiber, the weaving, the finishing, compliance, the laundry, rivets. You [need to] know what chemicals they use or how they treat their workers. You have to commit to your suppliers. It means you're proud and open about the supply chain—even if it helps your competitors."
Olah highlighted transparency success stories, such as Patagonia's "The Footprint Chronicles" and Swiss casualwear company Switcher, which allows customers to track the supply chain for each item through a website (www.respect-code.org).
Most consumers won't look at this information, Olah acknowledged, but "they know they can and they know that the company spends time gathering that information."
Olah also acknowledged the role of social media, which allows consumers to connect and share sustainability information around the world.
"Social media has the opportunity to change our industry," he said. "Consumers can change everything."