TRADE SHOWS
Capsule Launching LA Show in October at the CMC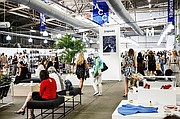 The Capsule trade show will host a Los Angeles edition of its women's show Oct. 17–18 in the penthouse of the California Market Center during Los Angeles Fashion Market.
The LA show expects to launch with 100 brands from around the world showing both established and emerging progressive contemporary labels in apparel, activewear, swimwear, accessories and lifestyle products.
"Capsule is heading to Los Angeles in response to a growing demand in our community, particularly East Coast brands, who wish to show at LA Market due to the high caliber of retailers who attend," said Dierdre Maloney, cofounder of Capsule. "Demand for our niche of progressive and advanced contemporary labels is growing right now, especially on the West Coast, and we're launching there in order to meet that demand. Downtown LA is a great, revitalized destination for shopping and culture right now; we're excited to be adding presence there to our calendar in addition to our shows in New York, Paris and Las Vegas."
Capsule Los Angeles will be held in the CMC Penthouse, where upscale accessories and lifestyle show Coeur recently relocated. The Penthouse also hosts two shows organized by the CMC, ALT and Transit.
"The CMC is very excited to be the new LA home for Capsule—which joins Coeur, LA Men's Market, Select, ALT, and Transit—reinforcing the CMC's prestige as downtown LA's hub for trade events," said Joanne Lee, senior vice president of trade shows and marketing at the CMC. "Additionally, Capsule fills a gap for an elevated showcase of advanced contemporary brands, solidifying the CMC as a key destination representing every market segment, as well as housing the largest selection of quality lines in the Fashion District."
Founded in 1997 by New York consultancy BPMW, Capsule has grown to include men's and women's trade shows in New York, Las Vegas and Paris. In 2013, the show was acquired by Reed Exhibitions, which hosts more than 500 events in 42 countries.Among its other apparel trade show holdings is streetwear show Agenda and women's show Axis, which is also bringing its show to Los Angeles in October for the first time.
For more information about the Capsule Los Angeles show, visit www.capsuleshow.com.