LEGAL
Lord & Taylor Cited for Not Disclosing Payments to Fashion Bloggers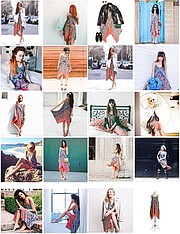 In the last decade, the fine line between paid advertising and commentary has grown more complicated as social-media sites and fashion blogs become the norm for getting out the word about a new product.
But the Federal Trade Commission has become more vigilant about making sure there is truth in advertising and consumers are not deceived.
Recently, Lord & Taylor settled charges lodged by the FTC claiming that the retailer last year paid some 50 fashion bloggers anywhere between $1,000 and $4,000 to post commentaries on Instagram and other social-media spots about a paisley dress that was part of Lord & Taylor's Design Lab private-label collection. Each post was preapproved by Lord & Taylor and targeted to women between the ages of 18 and 35.
However, the bloggers did not disclose they were paid to post images of themselves wearing the dress from the collection and that they got the dress for free.
Lord & Taylor also was accused of paying the online magazine Nylon to publish a Lord & Taylor–edited article about the Design Lab dress without mentioning that the article was really an advertorial and not independently written editorial content. These kinds of paid articles are also known as native ads.
The FTC calculated that the bloggers and fashion influencers' posts reached 11.4 million individual Instagram users in a little more than two days, resulting in the paisley dress selling out quickly.
"We don't have any statistical data on how prevalent this practice is," said Mary Engle, the FTC's associate director of advertising practices. "But generally speaking, it seems to be a very popular practice to use influencers across the board."
In settling the charges, Lord & Taylor is prohibited from misrepresenting that paid ads are from independent bloggers and must clearly disclose that they are paying for the social-media mentions.
Lord & Taylor was the first clothing company the FTC took action against for failing to disclose its influencers were paid, said FTC spokesman Mitchell Katz.
The FTC would not say how Lord & Taylor's practices came to light, although fashion site Refinery29 ran a story about the Design Lab campaign with a slideshow of images of 18 bloggers featuring the dress. Social shopping site Poshmark also featured the dress, referring to it as a "blogger favorite."
Katz said the FTC—whose mission is to protect and educate consumers—launches investigations based on consumer complaints, competitor complaints, letters from congressional members and the FTC's own experience in these subject matters.
Although the FTC hasn't been aggressive about charging clothing companies, it has issued warnings.
Last year, the FTC cautioned Cole Haan that a promotional contest on Pinterest was not transparent enough. Cole Haan's "Wandering Sole" promotion instructed participants to create boards called "Wandering Sole" on Pinterest. People were required to post five images of Cole Haan shoes to their boards along with five images of the participants' favorite places to wander and tag each pin with #WanderingSole. The participant with the most creative entry was eligible to win a $1,000 shopping spree.
The FTC said the contest violated its endorsement guidelines because the contest rules did not require participants to properly disclose their participation in the contest. The FTC did not take any direct action against Cole Haan, but Cole Haan was told to discontinue the contest.
In 2010, the FTC investigated a social-media campaign launched by Ann Taylor LOFT.
The specialty-store chain initiated a preview of its summer collection and announced the event to fashion bloggers. The bloggers were told that if they attended the event, they would receive a special gift and that those who posted the coverage from the event would be entered in a mystery gift-card drawing to win up to $500 to spend at Ann Taylor LOFT. The bloggers attending the event had to send a link to their posts back to Ann Taylor LOFT's publicist within 24 hours.
After an investigation, the FTC decided not to take action because this was the first and only event of this kind held by Ann Taylor LOFT. Also, only a few bloggers posted content about the preview, and several disclosed that Ann Taylor LOFT had given them gifts at the preview.
Later, the specialty-store chain adopted a written policy explaining that bloggers had to disclose any gifts they received.
In light of the FTC's investigations and inquiries, more and more companies are setting up guidelines about fashion bloggers revealing they are being paid for a post.
Attorney Sarah Bruno with Arent Fox in San Francisco said she has been preparing more endorsement guidelines lately for companies and advertising agencies because of the recent FTC complaint against Lord & Taylor. "A lot of agencies are savvy about this stuff, but we put this in writing," Bruno said.
Bruno said she gets all sorts of questions such as, "What if I give a donation on the blogger's behalf to write a glowing review?"
The attorney advises to err on the side of disclosing the donation so consumers are perfectly clear about the review's origins.
"A lot of clients we work with have policies in place that require disclosure. And when they see a failure [to disclose] they notify the blogger and say, 'Hey, we noticed you are talking about this dress we gave you for free, but you didn't mention we gave it to you for free," Bruno said.
Many fashion influencers have a page on their blog outlining their endorsement guidelines.
Kelsi Smith—whose Los Angeles–based Stylesmith Blogger Network of fashion influencers covers 3,000 websites in the United States, Canada and Britain—said transparency is very important to her. "I had a staff member who couldn't understand why that was important," Kelsi said. "I said, 'Imagine your best friend told you about this amazing mascara and you bought it. And then imagine you found out your friend was paid to tell you that.' There is really a big difference between the two."
Smith works with companies such as Japanese retailer Uniqlo to be connected with the appropriate fashion bloggers, who can be paid as much as $17,000 to write about a product. Each contract, she said, has a disclosure clause saying bloggers in some way or another must mention they are getting paid to write about a certain item.
"The onus is on the brand to enforce it," Smith said. "As long as they have documentation that shows they made the right move and tried to enforce it, then they are in the clear."