EVENTS
CFA Presents Scholarships at Annual Luncheon
Photo Gallery
CFA Presents Scholarships at Annual Luncheon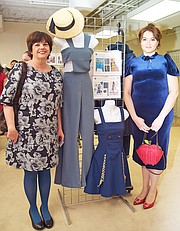 The California Fashion Foundation, the charitable arm of the California Fashion Association, presented its annual scholarship awards at an April 21 luncheon at the California Market Center in Los Angeles.
Students from the Academy of Art University–San Francisco, Art Institute of California, California State Polytechnic University–Pomona, California State University–Los Angeles, California State University–Northridge, El Camino College, Fashion Institute of Design & Merchandising, Los Angeles Trade-Tech College, Long Beach City College, Mt. San Antonio College, Otis College of Art and Design, Pasadena City College, Santa Monica College and Washington State University were presented with awards from Southern California companies as well as the YMA Scholarship Fund.
"We applaud your artistic talent and dreams, but we are also here to celebrate you getting a job," said CFA President Ilse Metchek, who added that she hopes to expand the scholarship program to include more fashion schools in the future.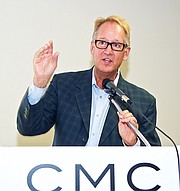 This year, in addition to scholarship awards from local companies, the students also received scholarship awards from the YMA Scholarship Fund, an 80-year-old New York–based scholarship organization that partners with fashion schools and fashion companies.
"The YMA fashion scholarship is about taking the best of the best and getting them jobs," said YMA Executive Director Douglas Evans.
Several speakers were on hand to give the students an idea of what the future holds.
Pat Tabassi, the product-development marketing manager of 30-year-old Los Angeles knitting mill Design Knit, urged the students to look for creative solutions to challenges that come their way.
"When you look at the road ahead, we look to you as the future of the industry," she said. "You are entering the fashion world at an interesting time when consumers are interested in how and where the garments come from. As a fashion hub, LA has an amazing pool of talent. We are fortunate to tap into that supply chain in the city we love."
Tabassi said her family-owned company started with one garment—a jacket made for her when she was 6 years old. The jacket was made by Tabassi's mother, Shala Tabassi, who creates all of Design Knit's fabrics. Pat Tabassi brought along the jacket, which was made from a mix of hand knitting and vintage denim.
"I have to say, the ombré is on point," she said.
Design Knit started with just a few styles but today has "thousands and thousands—we create new styles every day," Pat Tabassi said, crediting her mother's strong work ethic and her creative encouragement.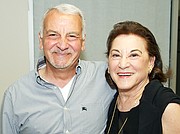 In a nod to California's entrepreneurial spirit—"The state of California creates the most entrepreneurs; that's in our genes"—Metchek asked Jesse Dombrowiak, with IndieSource, to explain how his company can help new designers with product development and full-package production.
Metchek also invited Tammy Chatkin, executive vice president of 24Seven Talent, to give some words of advice to the students as they head into the job market.
"There's no such thing as the perfect job," Chatkin said. "There are different jobs for different times of your life. Whether it's answering phones or picking up fabric, do it 150 percent. You're going to get noticed."
She also recommended the students find a mentor—"This room is full of leaders in this industry," she said—and continue to learn. "Be a sponge," she said. "This industry is ever evolving."
Scholarship award sponsors included AIMS 360, the Betty Baumgardner Foundation, California Apparel News, California Dynasty MGT, the California Market Center, CIT Commercial Services, Cohn Handler Sturm, the Cooper Design Space, Design Knit Inc., the Ben B. & Joyce E. Eisenberg Foundation, Fineman West & Co., J.T. Design Studio, Karen Kane, KWDZ Manufacturing, MGT Industries Inc., Moss Adams, STC-QST, Stony Apparel, Swatfame, Tukatech, UPS, Velvet Heart and Wearable Integrity. The Fashion Bookstore also contributed to a gift bag given to all the students, Eight Sixty Clothing provided the tablecloths and napkins, and STC-QST and the New Moon Restaurant provided the lunch.