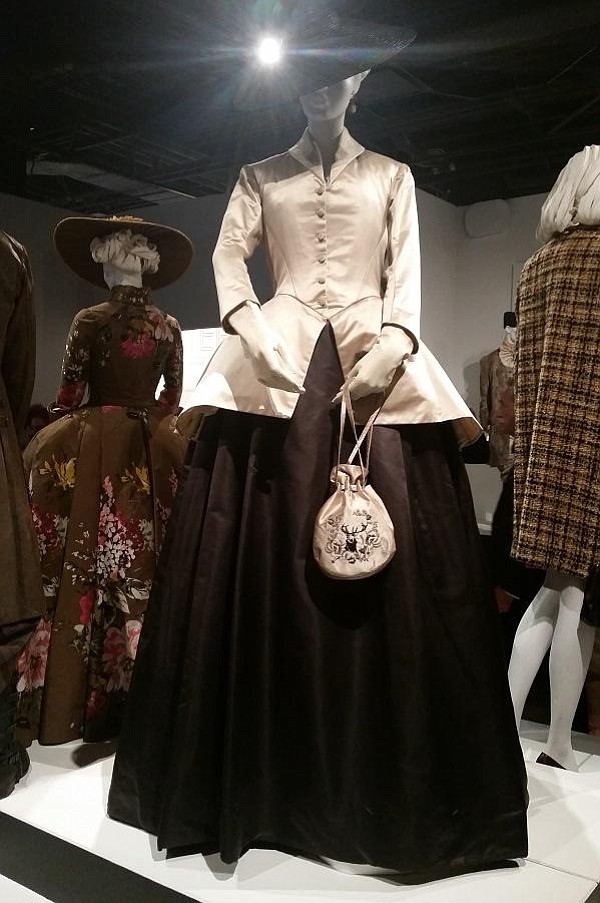 FIDM'S 10TH ANNUAL ART OF TELEVISION COSTUME DESIGN EXHIBITION
FIDM and Outlander's Terry Dresbach on Creating Characters
The Fashion Institute of Design & Merchandising celebrated the 10 anniversary of its Art of Television Costume Design exhibition with a grand-opening party held July 30 at the FIDM Museum & Galleries in downtown Los Angeles.
This year, the exhibition, which opened to the public on Aug. 2, features more than 100 costumes, including the Emmy nominated costumes for "American Horror Story: Hotel," Downton Abbey," Empire," Game of Thrones," Outlander," "Roots" and "Transparent."
The event drew a mix of fashion and costume designers, as well as other industry notables, including Lou Eyrich, whose work in the show included her Emmy-nominated costumes for "American Horror Story: Hotel," as well as her costumes for "Scream Queens." Eulyn Womble, the costume designer for "The Walking Dead" was spotted adjusting the costume on one of the mannequins. (Her reasoning: a zombie wouldn't have a tucked shirt.)
Costume designer Mary Rose was presented with flowers in recognition for her work ove rthe last 10 years curating the Art of Television Costume Design exhibition.
With the increase of large-scale productions like "Game of Thrones," "Outlander," and "Downton Abbey," and the addition of original productions on services such as Amazon, Netflix and Hulu, there are more big costume shows on television than ever before.
TALKING DESIGN INSPIRATION WITH TERRY DRESBACH
One of the highlights of the FIDM exhibition were Terry Dresbach's costumes for "Outlander," Starz network's time-traveling romance that skips between the 1940s, the 1960s and the 18th century. A few weeks before the opening of FIDM's television costume design exhibition, Dresbach spoke at the design school to a group of ardent fans of the "Outlander" and the original 10-book series by Diana Gabaldon.
"The beauty of 'Outlander'—and the curse—is one minute you're in the 18th century and the next you're doing miniskirts," Dresbach said.
Dresbach led the group through a slide presentation that included detail shots of costumes, paintings that served as inspiration and behind-the-scenes photos of the actors in fittings and Dresbach's crew at work in the design studio in Scotland.

"We started out with a small room with six people," Dresbach said. "Now we have close to 20,000 square feet and 70 people. Every costume takes a couple of months."
The designer took the group through the process of creating the costumes for "Outlander" including research that includes studying period dress, textiles, construction and technique.
"You find sources everywhere," Dresbach said. "I don't think there's an 18th century painting we haven't seen."
Dresbach collects images, creates a costume breakdown for each character and sketches ideas on an iPad. Each costume starts as a muslin so Dresbach and her team can check the design before creating it in the final fabric.
"The first thing I realized we can't rent anything. We're going to have to make everything starting with the fabric," she said.
Dresbach and her team recreate the look of 18-century fabrics by embroidering their own—"we started with one and now we have six embroidery machines," she said—and, more recently digitizing 18th-century portraits and painting on the textiles.
Joining Dresbach at the FIDM event audience was her husband Ronald Moore, the executive producer of "Outlander."
"Ultimately what my job is is to build that character,"Dresbach said. "You guys are my scariest audience. These books matter to me and they matter to you. A lot of details don't show up on camera. I yell at Ron all the time: 'Do you know how much time it took to make that?' But if we cheat because we think it's not going to show, you guys will notice."
In two seasons, "Outlander" has built a costume archive of nearly 30,000 pieces of clothing. Dresbach anticipates that the "Outlander" archive will eventually become a costume rental house.
The designer took a few questions from the crowd including one about any advice she has for aspiring costume designers.
"It's a beautiful thing when it's done right and supported by executives like my husband and a network like Starz and they put the support behind the operation. Then it's magical," she said.
LOOKS FROM THE FIDM COSTUME EXHIBITION