MANUFACTURING
American Rootswear: Tapping Into the Made-in-America Movement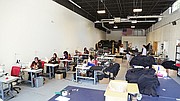 Although Ben Waxman grew up in a family involved in New England's woolen fabric business, he never figured on making a living in textiles. But after a career in politics and working with labor unions, that is exactly what he is doing in his hometown of Portland, Maine.
Waxman and his fiancée and business partner, Whitney Reynolds, last October launched American Rootswear, an apparel firm specializing in American-made jackets, pullovers, vests, scarves, throws and blankets. Growth has been rapid ever since.
The inspiration for American Rootswear traces to a trip Waxman and Reynolds made during the summer of 2014 with his mom, Dory Waxman, a woolen-textile veteran, to a woolen mill to look at new wools for blankets.
"I had this moment and I looked at Whitney and said, 'We are going to make stuff,'" Waxman recalls.
As Waxman's plan developed, he called about 50 friends and former colleagues and asked if their companies or organizations would be willing to buy American-made outerwear with their respective logos. All but two responded positively, and those two were already under contract with other suppliers until 2017.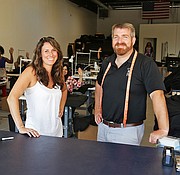 Waxman says his initial funding of more than $200,000 came from "cashing out" everything he had, raising funds from investors and a loan. This allowed him to buy machinery and set up operations. Initially, the company worked out of about 1,000 square feet in his mother's manufacturing facility, Old Port Wool and Textile. Co. As America Rootswear grew, he moved it into a 5,000-square-foot space.
"Our business model is very simple," Waxman says. "We sell to nonprofits, political organizations, organized labor, hospitality, government agencies and American companies that believe in American-made products. We definitely have a desire to support American jobs. We pay a good wage, a bonus and benefits."
Waxman says American Rootswear expects to sell between 15,000 and 20,000 units during its first full year, which is above expectations. So far, the company's primary focus has been on business-to-business sales with promotional products, but eventually it will move into consumer sales. New products are in the works, including a new line of cotton T-shirts and sweatshirts.
As a former union executive with the AFL-CIO, perhaps it's not too surprising that Waxman created a unionized company. It's the foundation of his plan to create living-wage jobs.
"I opened the factory to be unionized," Waxman says. "A lot of people say I am nuts, but it's what I believe in."
American Rootswear employs a largely international workforce of immigrants who have moved to Portland. The first group of six women trained and hired was comprised of three from the Congo, two from Iraq and one from Colombia. In addition to Waxman and Reynolds, American Rootswear employs 18 stitchers and a designer. He expects that number to grow in 2017.
American Rootswear relied on local assistance organizations such as Coastal Enterprises, Goodwill Industries and Portland Jobs Alliance to help develop a worker training program that was overseen by Reynolds and Dory Waxman.
Waxman and Reynolds put great effort into assembling its U.S. supply chain. The primary supplier is Polartec, which provides the fleece fabric used in most of the company's products. Waxman says he admires Aaron Feuerstein, the former CEO of Malden Mills, the creator of Polartec, for the way he treated his employees. Feuerstein, now 90 and retired from textiles, drew national accolades after he continued to pay his 3,000 employees following a 1995 fire that halted operations.
"I knew the story of Aaron Feuerstein," Waxman says. "I want to be that guy, to be someone who treats their workers right."
The company's U.S. suppliers also include Jagger Spun, a Springvale, Maine, manufacturer of worsted yarn, and Vernon, Calif.–based UCAN Zippers.
Waxman believes his fledgling company faces two major challenges as it grows in the coming years. One is capacity. He says he has been cautious about how the company has been rolled out. Orders poured in in the days after American Rootswear was launched last fall. Demand was so brisk during the first few weeks that Waxman says he had to "pump the brakes" to make sure orders could be filled. That's when he knew that he had to recruit more employees.
Maintaining a strong U.S-centric supply chain is the company's other primary challenge. As more product lines are added, more suppliers will be needed, and while U.S. suppliers can be found, it's not always the easiest task.
"Building a company like this requires a lot of patience and capital. Whitney and I do all the cutting and the inspection. Sometimes we are cutting until after 10 p.m. on a Friday night. We love our team and what we are doing. It's about as American as it gets. We have new Americans working in our shop, and we are providing them with a good living. We see a path for real middle-class jobs here."