TRADE SHOWS
Offprice Sees Exhibitor Count Off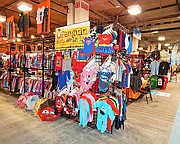 Booths at the Offprice Show in Las Vegas were selling merchandise at a bargain—designer sweaters for $7 and up and leggings for $2.50.
The four-day event, held twice a year at the Sands Expo and Convention Center, is always popular with retailers and discounters looking for bargain goods, but there was a glitch in this year's Aug. 13–16 run.
Tisha B'Av, a Jewish holiday that primarily commemorates the destruction of the First and Second temples in Jerusalem, began on Aug. 13.
The result was a number of retailers and vendors did not participate in the show this year, resulting in 100 fewer booths being sold. "We were in the 1,200 to 1,300 area of booths, just short 100 from last year," said Stephen Krogulski, chief executive of Tarsus Group NA, which organizes the show. "We definitely missed some of the retailers who normally would have come to buy Offprice."
Exhibitors noted that Saturday, the first day of Offprice, was very slow, but traffic picked up on Sunday and then declined on Monday, when the majority of the apparel trade shows began in Las Vegas.
Despite the decline in traffic, retailers were still writing orders and seeking out bargains. Rob Bosch, vice president of sales at Alliance Wholesale Apparel, said he had a 50,000-piece order during the show. "When buyers see what they want, they find the money to buy it," he said.
Bosch, whose company had a 1,500-square-foot booth at the front of the show, said the first two days for him were quite busy and then business quieted down.
He saw the bigger discount stores, such as DD's and Gabriel Bros. as well as some other big discount chain stores at the show. "This is an important show for a lot of us guys," Bosch said, noting the company has been attending Offprice from the early days, when it was held at the Debbie Reynolds Hollywood Hotel and Casino in the 1990s.
George Stunda of L.A. Fashion Hub noted that traffic was down from other shows. "But the buyers who were here wrote business," he said. "Overall, it has been a decent show."
One exhibitor who is not a discounter was Ramatex International, a New Jersey company known for its Baja Joe Mexican hoodies made of recycled material and wholesaling for $8.25. Its other products include mukluk-style boots and Scandinavian-style gloves and its colorful Cabin Fever blankets made of acrylic and polyester. "We are a little out of place here, but we have a good customer base here," said John Drummond, the key account manager for the company. "It's always a good show for us."