TEXTILES
Evrnu Regenerated Cotton: Sustainable the Second Time Around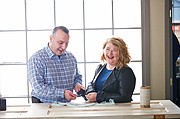 Textile and apparel industry veteran Stacy Flynn was traveling in China in 2010 when the inspiration hit to create an environmentally friendly apparel operation. Working at that time for a Seattle startup called Rethink Fabrics, she traveled into areas where textile and apparel operations had wreaked havoc on the environment. She was not only shocked by what she saw during that four-week trip but also felt some responsibility for contributing to the problem through her previous work in the industry.
"The air quality was so poor, the water quality was so poor, and I began adding up the millions of yards of fabric I had personally created to that point," she said. "I decided I wanted to spend the rest of my career finding solutions powerful enough to correct this problem."
Fast-forward a few years, during which time she earned an MBA in sustainability, and we come to 2014, when Flynn and her business partner, Christopher Stanev, founded Evrnu, using technology to purify cotton-garment waste.
Flynn had learned that creating the two major fibers used in apparel, PET and cotton, both require a tremendous amount of natural resources.
Evrnu's new technology breaks old garments down to the molecular level so that the end product can be extruded into a new fiber. Put simply, Evrnu takes cotton from a solid, converts it to a liquid and then converts it back to a solid. The objective is to create new fabrics and garments with the regenerated cotton fiber. Developing apparel out of this new fiber uses up to 95 percent less water than products made with virgin cotton.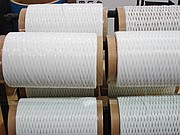 Evrnu drew attention last spring when it announced a partnership with Levi Strauss & Co. to create the world's first jean using discarded cotton. The partners are now working out the details on how they will move forward. Another partner is Target, which announced in a web post on Nov. 14 that it had become an early adopter of Evrnu's technology. "Through the partnership, we're funding research that will revolutionize how we can create great products with less environmental impact," said Kelly Caruso, president, Target Sourcing Services.
Flynn says it's uncertain at this point exactly when products using the fruits of Evrnu's technology will be commercially available. It depends on the brands, but Evrnu is planning on having its fiber ready for commercial testing by 2018.
The regenerated cotton fiber can be of blended with other fibers. Flynn said Evrnu has the technology for the same process with polyester but for now is only commercializing the cellulosic part. She notes that the new fiber "loves" dye and offers more available dye sites on the outside of the fabric. It accepts deep, rich dyes quickly.
Flynn started her career in the industry working at a luxury-home-furnishings company while attending the Fashion Institute of Technology. She later worked for DuPont as its fabric sourcing and testing manager for North America. She moved on to Target as a fabric specialist and then to Eddie Bauer as development manager. She then became involved with Rethink Fabrics, which makes T-shirts from recycled PET bottles.
Flynn says 2016 was a great year, with Evrnu hitting its annual objectives around mid-year. She believes 2017 will be more of the same.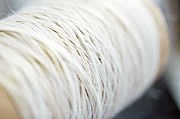 "We really had a good year this year, and we continue to push our ability to not only bring our technology into reality but also to get the early adopters signed on to test the technology," Flynn said. "In 2017, we will be working with our partners to build products that they want to sell. The biggest obstacle as a startup is that you don't know what you don't know. At every stage, there are a lot of details that have to be overcome. We have to do that as we scale."
Evrnu has scaled its technology seven times now. Flynn says the first prototype was literally made with a syringe and now the company is producing 10 pounds of fiber per week. A complete revamping of the formulation of Evrnu's technology is required as it scales to higher production levels.
Something that won't be a challenge is finding sufficient feedstock. Consumers dispose of 80 percent of their textiles in landfills. Goodwill, the Salvation Army and other charities collect a massive amount of apparel that is never used. Flynn said Evrnu can work with any of them to obtain feedstock.
So what other garments could be made other than jeans? Flynn says the Evrnu technology offers a lot of design capability. She says it can simulate an array of different fibers other than cotton, including rayon and polyester.
"It's really exciting to figure out exactly what we want to build and start working through those details," Flynn said. "At this point, we are still very much in the R&D phase. We know there are home-furnishings-industry applications as well as industrial end-use applications. We are farther along with apparel, and there is a lot to vet out in other markets."