FINANCE
Economic Forecast by Chapman University Predicts Solid Growth in 2017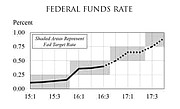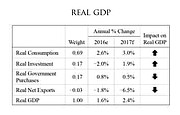 Donald Trump's first year in office should be a financial success with the economy projected to grow by 2.4 percent in 2017 after increasing between 1.6 percent and 1.9 percent this year. However, inflation will be on the rise.
In its economic forecast released on Dec. 15, the A. Gary Anderson Center for Economic Research at Chapman University in Orange, Calif., predicted a strong U.S. economy spurred by personal and corporate tax cuts, more spending on infrastructure and defense, and an easing of bank regulations.
At the same time, interest rates are expected to rise to at least 2 percent by the end of 2017 after being near zero for years. On Dec. 14, for the second time in a decade, the Federal Reserve raised the benchmark interest rate by 0.25 percent, from a range of 0.25 to 0.5 percent to a range of 0.5 to 0.75 percent.
The Federal Reserve indicated more rate hikes are on the way, suggesting they would nudge interest rates three times in 2017 because of the stronger economy and rising inflation.
Next year, consumers are expected to dig deeper into their pocketbooks and spend more as a rising stock market and burgeoning home prices make many feel wealthier.
On the local front, California's economy is expected to grow nicely in 2017, but job growth will see a 2.1 percent uptick compared to a 2.5 percent rise in 2016. Employers in Silicon Valley were hiring workers at a brisk pace, but that began to drop off and should continue to decline.
Also, construction activity is predicted to taper off in California next year with total building-permit valuation declining from a 4.1 percent growth rate in 2016 to 3.2 percent in 2017.
These two factors will be offset by a strong dollar bringing more imports from overseas into California, setting off a jump in port jobs, warehouse employment and logistics work. More imports will be arriving from the state's major markets such as China, Mexico, Japan and Canada.
Again, California's housing supply is expected to remain tight. There will be a need for 98,000 new units every year until 2020, but that may not happen. Currently, California's housing affordability index over the last few years has been at 90, which means the median family income is 90 percent of what is needed to purchase a median-priced home.
That will worsen next year with rising mortgage rates and increasing housing appreciation making home purchases more difficult. That will lead to a housing affordability index of 84.
Nationally, there will be 1.2 million housing starts in 2017, the highest since the economic recovery began seven years ago but still below the pre-recession high of 2.1 million housing starts in 2005.
A particularly bright economic light is shining on Orange County, where Chapman University is located. Orange County's economic growth is expected to surpass that of California and the United States with 2.5 percent job growth in 2017.
Construction will continue to be on the upswing with a 6 percent jobs growth in that sector. That is well over the 2.4 percent increase forecast for California but sharply behind the 12.7 percent rise seen in Orange County in 2016.
Another burgeoning sector is the services industry, which employs more people in Orange County than any other sector. It is predicted to see a 3.3 percent jump in jobs in 2017 versus 2.9 percent for the state.
From 2010 to 2015, Orange County's per capita personal income grew 16.1 percent, from $49,700 to $57,000, while California's per capita personal income expanded 25.2 percent from $43,200 to $54,100.
The difference in the salary escalations is because of Orange County's underperformance in creating high-paying information service jobs and more jobs in low-paying areas in the leisure and hospitality sectors.
As part of the forecast, James Doti, president emeritus at Chapman University and the Donald Bren Distinguished Chair of Business and Economics, took a look at how president-elect Donald Trump's threat to changing the North American Free Trade Agreement could affect California's economic growth.
He pointed out that when NAFTA went into effect in 1994, California's exports to Mexico totaled $8.2 billion. By 1997, those exports had jumped to $11.2 billion. For the 10-year period after NAFTA took hold, California's exports to Mexico increased on average 6.7 percent a year.
Computers and electronics account for the largest share of exports from California to Mexico, but other industries that have benefited include transportation equipment, chemicals and processed foods. Almost half of those exports were generated by small- and medium-sized businesses in the state.
On the import side, California as a distribution and logistics center benefited from the $41.3 billion in goods and services imported from Mexico in 2013. In addition, about half of those imports from Mexico were produced by labor, material and parts that came from California. Doti estimates that NAFTA supports about 177,000 jobs in California.
Importing components from Mexico for products manufactured and finished in California and the rest of the nation means those goods are cheaper and more competitive in other export markets, Doti said.
"The fact that NAFTA increased trade with Mexico should be seen as a very good thing," Doti wrote, even if some jobs are lost. "Rather than erecting trade barriers, those workers displaced by the competitive effects of international trade should be retrained."
Addressing Trump's threat to repeal the Affordable Care Act (known as Obamacare), Raymond Sfeir, director of the A. Gary Anderson Center for Economic Research, said the healthcare plan helped enroll 1.42 million Californians in private plans and another 3 million in an expanded Medicaid program.
He noted that the uninsured dropped from 17.2 percent of California's population in 2013 to 8.6 percent in 2015. "This increase in Californians getting healthcare coverage has led to higher employment in the healthcare industry," he noted. Using a forecasting model, he pointed out that Obamacare added more than 40,000 employees to the healthcare services and social assistance sector in 2015 and that could increase to 90,000 by 2020 if the system remains in place.
Nationwide, repealing Obamacare would mean 22 million fewer people would be enrolled in healthcare insurance programs by 2018.