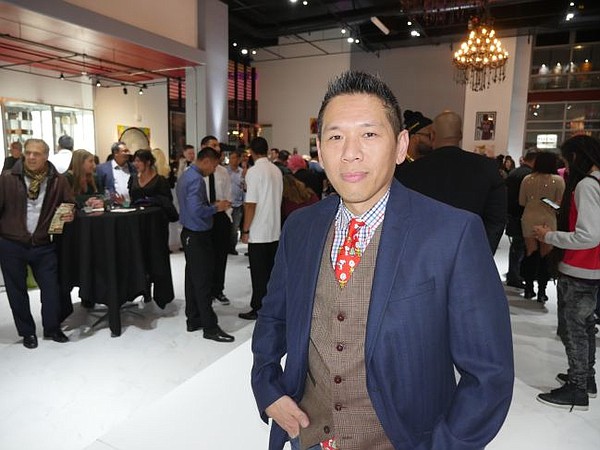 Brigade LA Takes L.A. Live
It was a party for a debut, for the holidays and for the jocks!
Indie boutique Brigade LA unveiled its new home on Dec. 16. The emporium is a 3,500-square-foot shop is located across the street from L.A. Live , a downtown Los Angeles entertainment, sports and dining compound. Sports fans know LA Live's neighbor, Staples Center, as the home of the Lakers, the Clippers and the Kings National Hockey League team. With all of balls flying and fans cheering across the street, it is fitting that Brigade's holiday party attracted some jocks.
Showing off athleisure and fitness line Lights Out was Shawne Merriman, the brand's founder and former linebacker for the San Diego Chargers. Baron Davis, who played for NBA teams such as the Clippers, Charlotte Hornets and the Golden State Warriors, also exhibited his Black Santa brand at the party.
Other jocks at the party included Larry English, who played for the Chargers and the Tampa Bay Buccaneers, and Will Claye, who won a silver medal. Entertainment figures at the party included Christina Milian, Nicole Williams, Jay Mendoza, a comedian, and Freddie Gibbs, a rapper.
To bring in the holidays, Brigade collected 300 toys for the U.S. Marine's Toys for Tots campaign. Yang received a certificate from Los Angeles Mayor Eric Garcetti at the event. Brigade pioneered boutique retail on downtown Los Angeles' 7th Street. He opened Brigade at 903 W. Olympic Blvd., on the ground floor of the Courtyard Marriott and Residence Inn. For his consumers, he expects sports fans, tourists and people going to the neighboring Los Angeles Convention Center. He also added a homewares section for people who live in downtown's South Park district, which is walking distance of L.A. Live.