LEGAL
Louis Vuitton Loses Copyright Appeal With Los Angeles Bag Company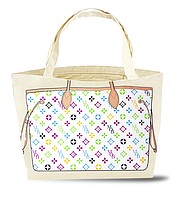 The big French luxury handbag maker Louis Vuitton Malletier hasn't had much luck convincing a judge that a California tote-bag company that parodies fancy designer handbags is violating copyright law.
Louis Vuitton lost its latest legal round on Dec. 22 when a federal appeals court panel in New York dismissed the case over trademark dilution and copyright infringement, saying the canvas totes manufactured by My Other Bag were definitely a joke that Louis Vuitton didn't get.
"I understand you don't get the joke. But it's a joke," said Judge Gerard E. Lynch, one of three judges sitting on the panel for the U.S. 2nd Circuit Court of Appeals.
In 2014, Louis Vuitton sued My Other Bag over the canvas tote bags launched by Tara Martin in 2011 after she walked out of a grocery store and knew she couldn't stuff her groceries in her Prada handbag. She came up with grocery tote bags that have photos of expensive handbags on the outside. They are manufactured in Los Angeles.
The case went to the U.S. District Court in New York, where Judge Jesse Furman tossed the lawsuit out of court in early 2016. Furman noted that the cheap tote bags were an obvious attempt at humor that was "not likely to cause confusion or the blurring of the distinctiveness of Louis Vuitton's marks."
But Louis Vuitton's attorneys took the matter one level up and filed a brief with the federal appeals court, maintaining that the bags were clearly protected by trademark law's parody defense. The panel didn't agree.