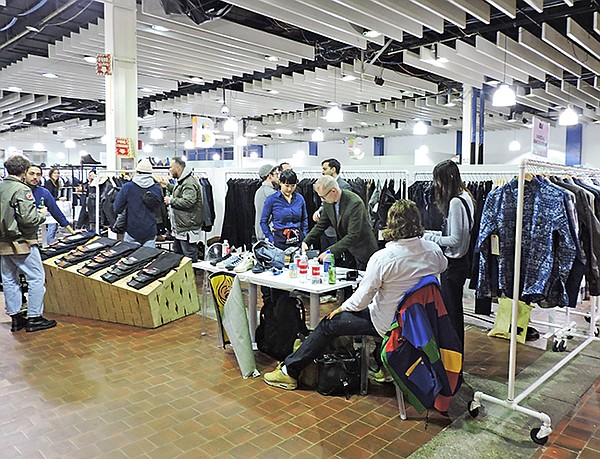 CAPSULE'S NEW HOME
Capsule Moves to Pier 92
NEW YORK—For its Jan. 26–28 run, Capsule trade show moved to a new location, Pier 92 on New York's west side, from its previous location at Basketball City on the city's Lower East Side.
In the new venue, Capsule was located next to the Liberty Fairs trade show. Attendees could use the same badge to access both shows, and organizers set up a tented walkway between the two venues.
The move was a welcome one for Mikey Herlo, director of sales for Los Angeles–based Cotton Citizen.
"I like it," he said. "It's much better for buyers."
On the second afternoon of the show, Herlo was meeting with a steady stream of retailers, including appointments and walk-ins.
"Yesterday was nonstop," he said.
Most retailers were looking to refill their inventory with new goods, Herlo said.
"Some people missed spring," he said.
At Tavik, public-relations manager Kelly McElroy was showing the Irvine, Calif.–based company's latest product for Fall. Tavik's "Interface" jackets are designed to be zipped together as a lined coat or each worn alone as a rain layer or a lightweight jacket.
The performance outerwear styles have pockets for stashing small electronics' battery packs as well as pockets "big enough for whatever size phone you have," McElroy said.
"We're having fun with the whole concept," McElroy said. "[Retailers] are looking for more than just the aesthetics."
Tavik will also show at Capsule's Las Vegas show, but McElroy said the New York show typically draws a lot of boutique retailers, large stores and more press. "That means more exposure [than Las Vegas]," she said.
Traffic on the first day of the show was a little light because of the weather, said Katie Merten, director of sales for Los Angeles–based Marna Ro.
She said she was primarily seeing East Coast retailers.
"There are usually a lot of buyers from Asia at this show," she said.
Designed by Eric Sartori, the Fall '16 Marna Ro collection features hand-spray-painted details. Several pieces have raw edges and an androgynous aesthetic. The 60-piece collection is manufactured in downtown Los Angeles.
This was the first time at Capsule for New York–based Yogasmoga, which was showing its activewear and athleisure collection for men.
"Our menswear line is doing really well," said Trish Cope, wholesale account manager. "We wanted to introduce it and create brand awareness. There's a really strong need for activewear in the men's market."
The Yogasmoga men's collection features performance fabrics with a soft hand, and pieces have thoughtful details such as thumbholes on jacket cuffs. There is a reversible jacket and a fabric with a laser-cut finish. Yogasmoga recently introduced a golf line, and there are shorts designed to store golf tees in the pocket and pants with darts at the knee so the wearer can line up that "perfect shot." The company is planning to introduce a tennis line, Cope said.
"We try to leave no stone unturned," she said. "That attention to detail is what you get from Yogasmoga."
RELATED STORIES