TRADE SHOWS
Milano Unica's Second Run in New York Coincides With Historic Snowstorm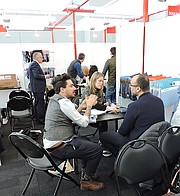 NEW YORK—Late in the afternoon on the last day of the Milano Unica trade show, two designers were walking in and out of booths showcasing luxury Italian fabrics.
"Do you have a New York showroom?" they asked. If the answer was yes, they picked up a card and moved on to the next booth.
Booths were still busy with attendees in the final hours of the fabric show, now in its second season in New York at the Javits Center. The last-minute rush was thanks to winter storm Jonas, which swept through New York Jan. 22–23. The storm put a damper on traffic for Milano Unica's Jan. 24 opening and delayed a few exhibitors traveling to New York from Italy.
Massimo Quadranti, export sales manager for Como-based Tessitura Virgilio Taiana S.p.A, was unable to arrive until Jan. 26. But he made the most of it, even taking a meeting with a designer from San Diego on the last day of the show.
Pamela Langlais—director of women's division for New York–based HMS International, which represents Lanificio Ermenegildo Zegna & Figli S.p.A, Successori Reda S.p.A and its Reda Active division, and E. Thomas S.p.A.—said for her, the show was an opportunity to make new contacts.
"If you invest in the show, you want to get the greatest exposure. I want to meet new people," she said. "Many people we thought we were going to see we did not see."
Still, Langlais was meeting with designers until late on the last day of the show.
On the second day of the show, all the tables were full of designers and fabric buyers at the Albini booth, where representatives were showing the latest collection from the Bergamo, Italy–based vertical mill lines: Cotonificio Albini, Thomas Mason and Albiate.
"Italian fabrics have always been important in the U.S. market," said Silvio Albini, director general of the Albini Group. "Now the stress on the importance of Italian fabrics—and we like that."
Albini has an office in New York, which covers the entire U.S.
"As a company, we are selling much more on the West Coast. We understand America is not just New York," he said. "We go to Los Angeles and San Francisco now many times during the season."
This was the first time at Milano Unica in New York for Michele Pozzi of Tessitura Uboldi Luigi srl. The Como-based mill has a New York agent and several U.S. customers (including a few in Los Angeles), but Pozzi said the company is looking to expand its U.S. business.
"It's important—the U.S. market," he said. Uboldi started in 1977 making men's outerwear fabrics, but today the vertical company has 50 looms and has expanded its focus to include women's fabrics in blends of cotton, silk, viscose acetate and cuprammonium.
Pozzi said the show got off to a slow start but picked up by the last day.
"The schedule was not so fun. [Starting on] Sunday was not a good idea. And, also, the storm," he said on the last day of the show. "Yesterday started very flat, then became better during the day."
Ercole Botto Poala, chief executive officer of Biella, Italy–based mill Reda and president of Milano Unica, acknowledged the challenge posed by the snowstorm but was optimistic about Milano Unica's future.
"This season was pretty tough because we had Jonas," he said. "We lost one day. Even the exhibitors were not ready."
The current exchange rate makes Italian fabrics more affordable for U.S. manufacturers and more designers are looking for better fabrics with quality of made-in-Italy production, Botto Poala said.
"We need to be ready to understand the picture of the U.S. market," he said. "They're looking for made-in-Italy. It's an important story for their customers to better sell their product."
Botto Poala said it's also critical to meet the new players in the U.S. apparel market because many of them have never had the opportunity to work with Italian fabrics and mills before.
"We believe Milano Unica must invest in the future," he said.
Milano Unica recently partnered with the Council of Fashion Designers of America to launch a new fabric-development program.
CFDA Chief Executive Officer Steven Kolb was at the fabric show to announce the new program, which will pair three up-and-coming designers with Italian textile mills.
"Each will go to Italy, identify a mill to work with and create fabrics," Kolb said. "[In the end,] they will get 10 meters to work with in their next collection."
CFDA has already selected a womenswear designer, Ryan Roche, and an accessories designer, milliner Gigi Burris, for the program. A menswear designer will be announced at a later date.
"They represent the face of a new generation of talent," Kolb said. "This is a very special opportunity."
Milano Unica also organized a panel discussion titled "Why Italian Fabrics."
Moderated by Burak Cakman, dean of fashion at Parsons School of Design, the panel included Italo Zucchelli, men's creative director of Calvin Klein Collection; Katharine Zarella, founder and editor in chief of Fashion Unfiltered; Josh Peskowitz, founder of Magasin, a new menswear boutique opening in Culver City, Calif.; and Joseph Abboud, chief creative officer of Men's Warehouse Inc.