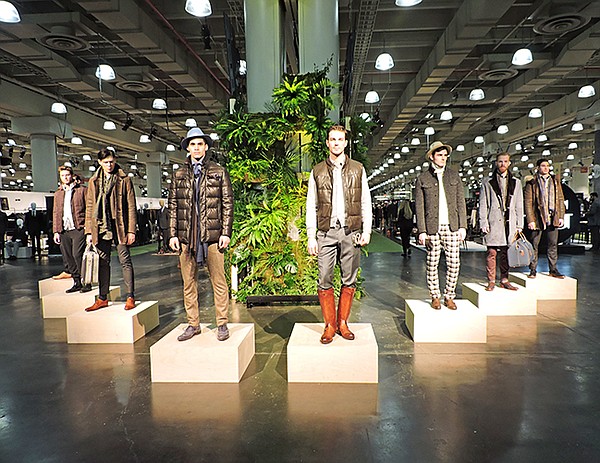 FASHION + ACTIVE
MRket New York Bows Activewear Section, Fashion Installations
NEW YORK—Outside the Javits Center, people were bundled up in winter coats and snow boots, but inside at the MRket menswear trade show, men in shorts and T-shirts were taking their turn on the Cycle for Survival bike to help raise funds for rare cancer research at Memorial Sloan Kettering Cancer Center. The cycling fundraiser anchored MRket's new Move x Equinox section, featuring men's activewear and athleisure brands. Move took its bow during the Jan. 24–26 run of MRket, where exhibitors included new brands such as New York–based Masterclass Apparel and well-established companies such as Canadian brand MPG Sport, which has been around for nearly a decade and sells in core sporting-goods stores such as REI and Title 9.
"We understand athletic; we're athletic people. We've been doing this forever," said Richard Gualtieri, MPG director, who said he was looking to open new accounts "on the fashion side" in men's better specialty stores.
"Sunday was slow, but I did write some orders," he said. "That spoke to what they were about to accomplish with this Move at MRket. It's added an element to the show that's fun."
Traffic picked up on the second and third day, Gualtieri said, adding that specialty-store buyers are interested in adding activewear, which, for some, is a completely new category for their stores.
"These men's better specialty guys know they need this. They recognized athleisure as a trend, but they don't know how to buy it," he said. "Many will ask, 'What are the 15 pieces they need?'"
The MPG collection includes core activewear pieces such as antimicrobial T-shirts and shorts with compression linings. But there are also crossover pieces such as MPG's "Broadway" pant, a relaxed-fit style with activewear properties.
Gualtieri also brought along some pieces in MPG's women's capsule collection with Julianne Hough of "Dancing With the Stars."
Leather outerwear manufacturer Remy is a longtime MRket exhibitor. Justin Remeny, president of the Los Angeles–based company, acknowledged that buyer traffic was impacted by the major snowstorm that covered New York in the days before the show.
"For the people that arrived, it's been great," he said. "[The show] pulls in the high-caliber customers."
This season, Remy introduced a new ultra-lightweight lambskin jacket as well as a new quilted fabric coat.
Jim Woodward, distributor for European trouser collection Meyer, said he saw about half as many buyers as he typically sees at MRket.
"Normally, the first two days we can't move," he said. Instead, Woodward found his busiest day on the final day of the show.
The men's trouser collection launched in the U.S. more than two years ago and was quickly picked up by about 150 independent men's stores around the country.
San Francisco–based Left Coast Tees was steadily busy throughout the last two days of the show. The company only exhibits at trade shows in New York, Las Vegas and Chicago, so connecting with buyers at the shows is crucial.
"We only have three shots at seeing people," said cofounder Steven Sockolov.
The turnout was primarily from East Coast stores, but Sockolov said he did meet with buyers from Texas, California and Florida, as well.
The 5-year-old brand manufactures its pima cotton T-shirts in Peru and warehouses them in Georgia for quick-turn delivery.
"We stock 29 colors of [our basic crew] T-shirt," Sockolov said. "We also have polos, long-sleeve T-shirts, V-necks and our knit sport shirt, which is a knit button down."
This season, MRket organizers also added a series of fashion installations during the show featuring the new Barbour collection and a selection of brands from the show's Made in Italy section.