MANUFACTURING
Finding a Niche for Made-in-USA Headwear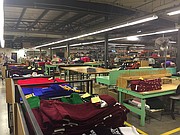 Cloquet is a small town in northeast Minnesota, about 20 miles west of Duluth. It is not a typical textile manufacturing center, and it's home to a not-typical company called Wear-A-Knit.
The company's owner, David Leslie, is also not a typical head of a textile manufacturing operation. He comes from a construction and mining background and was looking for a new opportunity after his father bought him out of the family business in the late 1990s.
Leslie found that opportunity in 1999, when he purchased Wear-A-Knit, a company that began life in its founder's garage in 1978.
"I was like a fish out of water when I started," Leslie, now 61, recalls. "I've learned a lot since then."
Leslie commutes to Cloquet from his home in Superior, Wis., often by motorcycle, to his factory, which produces about 2,000 knit products a day. It's a small, niche business, and it is thriving today.
Knit hats, or as they are more commonly referred to, toboggans, are Wear-A-Knit's best-selling product, comprising 60 percent of sales. They are described as "one size fits most." The company also makes beanies, ear bands, mittens and scarves. Wear-A-Knit has the capability of knitting customer logos into its products.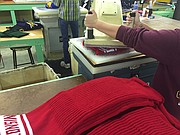 Leslie says the company has gone through a lot of ups and downs through the years. He persevered through the Great Recession as well as withstood competition from manufacturers in Asia. In recent years, the company has seen somewhat of a rebirth, spurred by preferences for made-in-the-U.S. products and Internet sales. After selling products through the Ad Specialty Institute for years, he realized he had to go in another direction because too many companies were beating him down on price.
So in 2007 Leslie had to reinvent the company. That's when he attended a DECA conference in Atlanta. DECA, preciously known as Distributed Education Clubs of America, is an association of high school and college students and teachers involved in marketing and entrepreneurship. He became a DECA-approved vendor and started selling directly to high schools in the U.S. Now, high schools, colleges and corporations are Wear-A-Knit's primary customers.
Wear-A-Knit also manufactures a lot of products for private labels, an area Leslie said has been growing by word of mouth. At one time, Wear-A-Knit's sales were about 80 percent to high schools. Now, that amounts to about 50 percent as its customer base has broadened. The music industry is increasingly a strong customer as Wear-A-Knit has manufactured hats for the tours of various performers, including John Mayer. Another growing customer is an organization that promotes syrup made in Vermont.
"It's amazing," Leslie says. "I am excited about my company. We are flourishing. I consider us at maximum production now."
Leslie said finding sufficient labor and paying for it will be his company's greatest challenge going forward. He says the region is going through a population growth spurt and there is increasing competition for skilled workers. He notes that Minnesota's minimum wage is $9 per hour, a figure that Leslie said "is a lot" for the Midwest. Wear-A-Knit's workforce ranges in age from about 25 to a few sewers in their early 80s. All are trained in-house when they first arrive at the company. The staff currently numbers in the low 30s.
"I start my people at $9.40, and, after 30 days, if they are a viable long-term prospect, I up them quickly," Leslie says. "Most of my employees make over $11 an hour."
While much of the company's competition has been from overseas, it is interesting to note that Wear-A-Knit's strongest competitor is not that far away, in Milwaukee, where Wisconsin Knitwear is based.
The U.S.-manufactured aspect of Wear-A-Knits products has been driving growth for several years.
"We are completely made in Cloquet," Leslie says. "A lot of companies say they don't like the quality they get from overseas. China is really struggling now with labor and environmental issues, and everyone who is buying hats knows this."
Wear-A-Knit products are renowned for their high quality, and that helps drive the company's business. Sometimes prospective customers turn to cheap goods made in China only to eventually reject them and come back to the Cloquet company.
"I recently got outbid for supplying hats to prisons in Michigan," Leslie recalls. "Someone else wound up with the bid. After a month, they came back to me."
Wear-A-Knit is not a large operation; it is housed in a 21,000-square-foot building. But that's plenty of room for Leslie, who has no facility-expansion plans in spite of the company's growing business. The business has seasonal fluctuations with high spots in the lead-up to end-of-year holidays and down periods at other times, so it has worked well so far.
Wear-A-Knit only uses acrylic yarn and runs through 6,000 to 8,000 pounds per week. Much of it is sourced from National Spinning, a Washington, N.C.–based company that specializes in serving the knit sectors. National also dyes yarn for Wear-A-Knit, which uses 32 different yarn colors in its products. Gastonia, N.C.–based Champion Thread supplies thread to Wear-A-Knit.