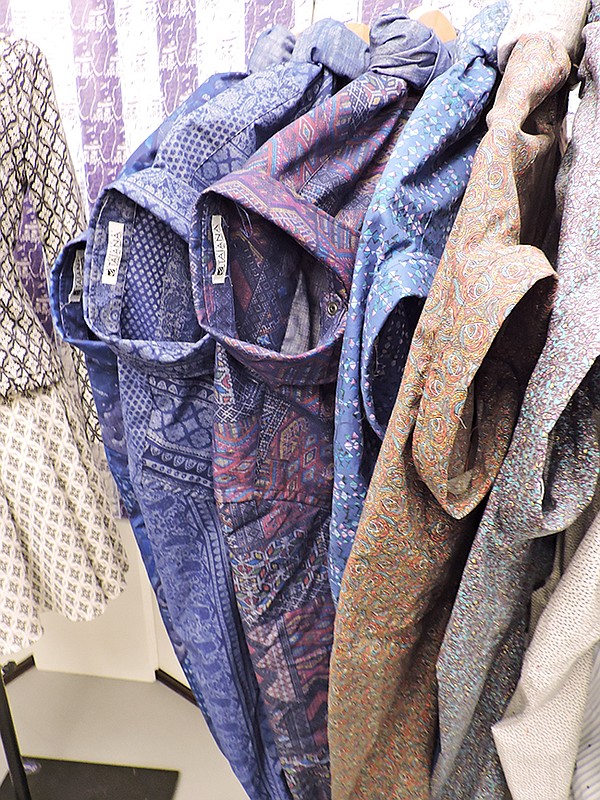 MILANO UNICA
Bustling Milano Unica Show Prepares to Relocate Next Season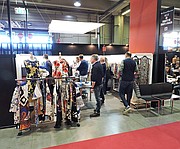 MILAN, Italy—Traffic kicked off early during the Feb. 9–11 run of Milano Unica, the textile trade show that focuses on upscale fabrics.
"It started rather early this time," said Isabelle Dupuy of French mill Trouillet on the first day of the show. It was the same for Pierre Scanzi of French lace mill Goutarel.
"The best day is the second day, normally," he said. Scanzi said he saw many Italian designers but also "some people from the Eastern part of Europe. Some from the Middle East. Very few Americans."
Michel Vigano, owner of Italian mill Seterie Argenti, was pleased with the turnout at the show, which, he said, is "getting better and better."
"I am seeing very good brands—Moschino, D&G," he said. "In addition to Italians, I also saw British and Swedish customers."
Designers were looking for color and a lot of textured fabrics such as "crepes with big yarns, raffia, natural aspects, linen [and] jacquards with particular yarns," Vigano said.
Overprints on textured fabrics also did well as did linen mixed with other fibers such as silk, cupro or cotton.
Held in several halls at the Fieromilano­city convention center in Milan, Milano Unica was founded 11 years ago when several longstanding trade shows joined forces to show in a central location. The show features several areas: Moda In and Moda In Accessories, which has men's and women's fabrics and trim; Shirt Avenue, which features shirting resources for men and women; and IdeaBiella, a section primarily showing menswear fabric resources from the area around Biella, a city in Italy's Piedmont region. Many of the show's exhibitors are European, although there are Japanese resources showing in the Japan Observatory section and Korean resources showing in the Korea Observatory section.
At Albert Guegain, a French lace mill that also shows at the Los Angeles International Textile Show, Nathalie Guegain said she met primarily with Italian designers but also saw some from Eastern European countries such as Poland and the Czech Republic.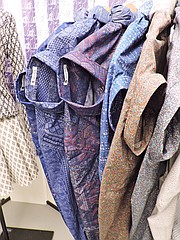 For Marco Taiana of Como, Italy–based Taiana, the opening-day traffic seemed on par with other shows.
"It's been quite busy," he said.
On the first day of the show, Taiana said he primarily saw Italian customers as well as "a couple of Japanese and one American customer."
Taiana was showing inkjet-printed fabrics with small motif patterns and gradient effects, prints on denim-ground fabrics and jacquards.
"This is always a busy exhibition for us," said Alessio Papanikolaou, owner of the Montemurlo-based mill Duemilagori.
This was Duemilagori's third time showing in IdeaBiella after several seasons showing in ModaIn. The move to IdeaBiella has been good, Papanikolaou said, because there is more of a menswear focus at IdeaBiella.
Duemilagori works primarily with menswear companies, but some womenswear brands also shop his collection.
"Some of the line is a little unisex," he said. "It's only a matter of changing the colors."
Papanikolaou estimated that 60 percent of the customers at Milano Unica were Italian, with the rest from all over Europe as well as from Japan and Korea. The company does not have a large client base in the U.S., although its fabrics are well represented in the U.S. market, Papanikolaou said.
"Our product is more for special Italian fashion," he said. "It is not easy to enter the U.S. market. We are already in the U.S. but not directly. Italian fashion is very well known all around the world. Our Italian clients are selling very well in the U.S."
Swarovski, maker of high-end crystal embellishments, had a large presence in the accessories section of ModaIn. Milano Unica was busy, according to Francesco Gabrielli, digital and communication specialist with Swarovski Internationale D'Italia S.p.A., the Milan-based division of Swarovski.
"The first day is the most important," he said. But on day three, all of the Swarovski staff at the booth were busy working with customers. Gabrielli said most of the companies who came to the booth were Italian, but there were meetings with designers from all over the world.
Duksung Co. Ltd. was one of 13 Korean fabric and trim suppliers showing in the Korea Observatory section of Milano Unica.
Kevin Jeong, chief executive officer of the Gyeonggi-do, Korea–based company, said Milano Unica provides a good opportunity to showcase his company's line to the Italian market.
"We sell to the world, [but] Italy is here," he said. "There are so many luxury brands and medium-high brands here."
Duksung specializes in simulated leather, suede and fur as well as functional knits for the fashion market. For outdoor apparel and activewear, the company has performance knits, thermo-regulating fabrics, breathable and air-permeable fabrics and eco-friendly fabrics.
This season also saw the return of the Japan Observatory, a pavilion with 25 exhibitors, including giant Itochu Corp. as well as denim and novelty fabrics by Yagi Tsucho Ltd. and activewear fabrics by A.Girl's Co. Ltd.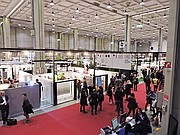 Milano Unica on the move
This was the 22nd edition of Milano Unica, which has been held at Fieramilanocity nearly continuously since the beginning. This season's show featured 424 exhibitors, an increase over last season's 399.
In September, the show will relocate to Fieramilano, located in Rho, Italy, a 10-mile drive from Milan.
"We are physically not able to grow here," said Ercole Botta Paola, the new president of Milano Unica and chief executive officer of Biella-based mill Successori Reda S.p.A.
Milano Unica was held at Rho in 2006 for one season shortly after the facility opened. Today, there is a train that connects Milan to Rho.
"The idea is to create a trade fair that brings together everything in an urban environment," Botta Paola said. "We don't have the space here."
Milano Unica's four sections will continue in the new venue at the next show in September. There will also be a trade show called Origin that will focus on high-end garment manufacturers.
The move to Rho will also allow Milano Unica to expand into new categories such as denim and leather. Organizers are open to expanding the exhibitor base to include other countries, much like it has done with the Japan Observatory and the Korean Observatory.
"In Italy, the best creativity in the world comes to visit us," Botta Paola said. "We have all the excellence of Europe [exhibiting] as well. My idea is to grow the categories [and] ask all the different districts to come. We need to cultivate diversity in an elastic frame of unity."
But all exhibitors must meet the same high-quality standards of Milano Unica's existing exhibitors, Botta Paola said.
"We are the company that is excellent in excellence," he said. "Excellence is the new mantra of luxury. We are open to other excellent exhibitors. That's our DNA."
Over the course of its history, Milano Unica has expanded to include shows in Shanghai and New York as well as Prima MU, a new Milano Unica show in Italy, which bowed last July. The second edition of the precollection show will be held July 6-7.
Milano Unica's New York show recently concluded its second season at the Javits Center. Show organizers will return to the Javits Center in July, then they will evaluate whether the dates and venue are the best for their exhibitors and the buyers.
"We need to be invested in the USA because there is a lot of opportunity," Botta Paola said.