Wholesale Jewelry Show IFJAG Bows in Las Vegas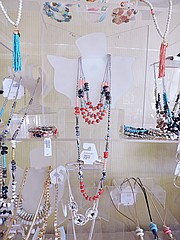 Long-running wholesale jewelry show IFJAG debuted its first Las Vegas show during its Feb. 15–19 run at Bally's Las Vegas Hotel and Casino.
The show, which was founded in 1950, is organized by the International Fashion Jewelry and Accessories Group, a Rhode Island–based nonprofit accessories trade association. There are IFJAG trade shows in New York and Miami. For the Las Vegas edition, IFJAG members showed fashion jewelry collections and other accessories items to wholesale buyers in hotel rooms on two floors at Bally's.
"We have a very good name on the East Coast," said Show Director Alan Green, who said the move to Las Vegas was prompted by internal research, which indicated that the venue would attract key buyers.
"Our target is large-volume buyers, wholesalers and independent chains," he said. "Our goal is to increase the number of regulars—and find new regulars."
Green said the show draws focused buyers looking specifically for accessories such as fashion jewelry, watches and scarves, which makes for an efficient show for IFJAG members.
"They don't have to wait while the blue-jeans buyers walk by; they're in the bulls-eye," he said.
Vishal Mipuri, with Northridge, Calif.–based International Duru's, was showing statement jewelry made in the Philippines.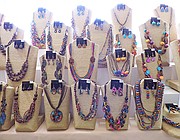 Mipuri praised the location, noting that the rooms were larger than in New York.
"It's good," he said. "We're getting some different buyers than normal."
Albert Kim, merchandiser for Niles, Ill.–based RM Manufacturing, was showing "bling" fashion jewelry, noting that he was hoping to find department store and wholesale buyers.
"I'm here to catch the big fish," he said.
Joann She, owner of Joann She & Co. in New York, was also looking for "more customers—obviously."
She carries trend-driven fashion jewelry and has been showing at IFJAG for 25 years—"since it was in Providence."
"We have to keep up with the trends [and] the colors," she said. "We always have good colors."
Las Vegas is a good location for the show, she said, but added that many of her customers were exhibiting at MAGIC and the WWIN show at the same time and were unsure if they'd have time to visit her at IFJAG.
"At least two regular customers called to tell me that," she said on the first day of the show.