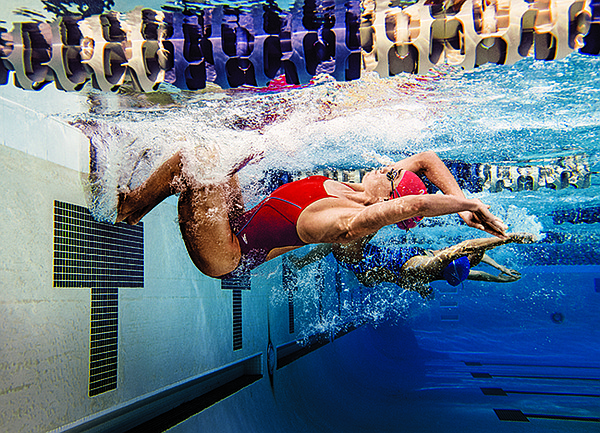 MANUFACTURING
Speedo USA Dives Into Innovation and Technology
Speedo USA has gone through a lot of changes lately.
The venerable swimsuit label, worn by Olympic athletes around the world, recently moved its headquarters from a lofty high-rise perch overlooking downtown Los Angeles to a massive warehouse of a space south of Los Angeles, where a swimming pool will be an essential ingredient in the office formula.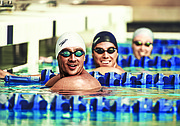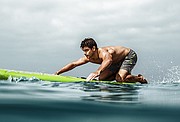 And the upcoming Olympic Games will be the first where Michael Phelps—winner of 18 gold medals—won't be donning a Speedo suit to torpedo through the water—if he makes it to the games.
Instead, Phelps announced this year that he will be wearing his own swimsuit brand, MP, which he has been developing with Aqua Sphere and may wear at the Summer Olympic Games if he qualifies for Rio de Janeiro. Phelps' agreement with Aqua Sphere—an Italian company that started out making swim goggles in 1998—runs through 2020.
However, Speedo USA is still sponsoring 12 swimmers who have a good chance of heading to the Rio games. Those athletes include Ryan Lochte, Missy Franklin, Conor Dwyer, Cullen Jones and Natalie Coughlin.
"Michael is an amazing athlete. He won 18 gold medals wearing Speedo," said Jim Gerson, president of Speedo USA and Calvin Klein Swimwear. He explained the company met with Phelps after the Olympics and each decided to go his own way.
Gerson has been the man heading up Speedo USA for the last five years, navigating the label into an increasingly technological world, where social media, e-commerce and highly engineered swimsuits are part of the right stuff needed for success.
Speedo's No. 1 customer is the competitive swimmer, whether it is the Olympic athlete or those aspiring to grab a piece of gold one day. Consequently, Speedo is a major sponsor of several high-profile swim events.
But the swimwear business is as competitive as the Olympic Games, and swimwear companies such as Tyr and Arena have been nipping at Speedo's fins.
Three years ago, Tyr and Arena toppled Speedo's 27-year agreement with USA Swimming to be the exclusive apparel sponsor for the USA Swimming National Team.
In addition, Tyr and Arena are developing their own high-tech competitive swimsuits to compete with Speedo's Fastskin LZR Racer X, the latest incarnation of Speedo's advanced technological suit devised to help Olympians cut through the water faster and grab that gold.
"We sell more LZR suits today than we have ever before," Gerson said, declining to say how many suits have been sold. "The younger athletes are moving into racing suits."
The technological research that goes into them is phenomenal and more complicated than ever. Speedo came out with its first LZR Racer in 2008 after four years of research with the help of NASA and the Australian Institute of Sport.
In 2009, the International Federation of Swimming (FINA) banned tech suits made from polyurethane and other materials, which led to a streak of world records. Now racing suits have to be made from textiles, not plastics.Speedo's latest LZR high-tech suit, which came out in 2015, required 10,000 hours of product development as well as input from 20 swimming experts and 330 world-class swimmers from around the world. "The new suit has bonding and unique taping and technology for high compression and freedom of movement," Gerson said.
With all that technical development, the suits are far pricier than the standard $50 to $80 one-pieces that most recreational swimmers snap up at a sporting-goods store. The souped-up Fastskin LZR Racer X suits sell for around $360 for a men's jammer and $490 for a women's open-back kneeskin. Speedo also developed technologically advanced goggles and swim caps to further reduce an athlete's drag in the water.
"We went to Kazam in Russia [for the 16th FINA World Championships in July] and had great success with this suit," Gerson said. 'Every four years the athletes step on the block and go with the brand they trust."
Don't tread water
The $1 billion competitive and fitness swimwear market is finding new consumers all the time.
The market is growing on the fitness side because swimming is a low-resistance form of exercise that is easier on the joints than running, basketball or tennis. It is being taken up by more baby boomers who find they can no longer jog long distances without pulling a hamstring or calf muscle.
On the competitive side, many professional athletes are doing more cross-training by dipping their toes into the water and exercising with underwater treadmills, paddles and water balls. The University of Kentucky basketball team has a YouTube video showing its players doing underwater treadmill training to build up muscles and endurance. "We are seeing more athletes get in the water to do water-based fitness. It is high impact and low resistance," said Gerson, who swims about four or five times a week.
Speedo USA has a whole range of products it plans to introduce in 2016 for those cross-training athletes, such as water-based fitness shoes, fitness resistance balls, clutch paddles and elastomeric goggles.
The company will be able to test those products in the pool being built inside its new 68,000-square-foot facility in Cypress, Calif., the Orange County city that is also home to Manhattan Beachwear and Vans shoes.
"We will be able to walk in our consumers' shoes," Gerson said. "Water-based resistance training is what we want to introduce to athletes."
Years ago, Speedo USA had its own pool at its headquarters in the Los Angeles–area industrial city of Commerce, Calif., when the company was owned by Warnaco Group. At that time, Warnaco not only made Speedo USA and Calvin Klein Swimwear but swimwear labels such as Cole of California, Catalina and Anne Cole.
Warnaco sold Cole of California, Catalina and Anne Cole in late 2007 and later moved its swimwear headquarters to a high-rise in the heart of downtown Los Angeles, where it was headed by Paula Schneider from 2006 to 2010. She is now the chief executive at Los Angeles clothing label American Apparel.
When Gerson came on board in 2010, Speedo USA and Calvin Klein Swimwear's revenues were $257 million. By 2011, they had grown to $275.5 million, the last year for which the swimwear group's revenues were made public.
In 2013, PVH Corp., the nearly $8 billion company—whose labels include Calvin Klein, Izod, Arrow, Van Heusen and Tommy Hilfiger—bought Warnaco Group for $2.9 billion, bringing Speedo USA and the various Calvin Klein labels, including Calvin Klein Swimwear, under one umbrella.
Gerson, a seasoned sportswear and swimwear executive, made the transition from Warnaco to PVH Corp. without missing a beat. He used his years of experience working at corporations, such as The North Face and VF Corp., where he headed up California surf brand Reef, to continue to work on innovation and tapping new technologies, such as the recently launched Speedo Shine by Misfit, a waterproof fitness device that tracks lap counts, swim distances, walking, cycling, running and sleeping.
With PVH in charge, the decision was made to move Speedo's headquarters this year to a more spacious location. The new office was designed so the various Speedo USA teams in charge of design and development, marketing, and creativity could work better together to develop products for its consumers.
"We are going to celebrate the athletes and appeal to the broader fitness consumer," Gerson said. "Everyone's Everest is different." ww