NEW LINES
Showroom Profile: Mystree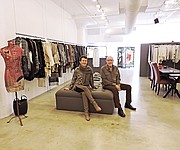 The New Mart, Suite 609
(213) 622-3553
On Jan. 1, Jerry and Judy Wexler moved into their new showroom on the sixth floor of The New Mart. At 1,200 square feet, the new space is more than 400 square feet larger than their previous location on the second floor of the California Market Center. The Wexlers are the West Coast representatives for Los Angeles–based collection Mystree, and the new showroom gives the couple room to showcase the brand.
"It's nice to spread out a little," Judy Wexler said. "Mystree has a tremendous amount of product."
The Wexlers spent about 25 years in the CMC, moving from the 12th floor to the eighth floor, then the second floor. The new space at The New Mart has an airy feeling with high ceilings and a wall of windows overlooking the Los Angeles Fashion District. The Wexlers added handing racks to the space and added built-in desks and a partial wall to create a storage area in the back of the showroom.
"We wanted an open-floor feel to it," Jerry Wexler said. "We're excited. We think business will do well here, especially with the contemporary stores we do business with."
The Mystree showroom is open on the Sunday before Los Angeles Fashion Market officially starts for appointments with retailers who prefer to shop over the weekend.
"We're very optimistic," Jerry Wexler said.